Surfboard has integrated with Slack
Surfboard for Slack is here 🎉
We're excited to launch Surfboard notifications on Slack. This means surfers will be able to see what activity they are moving onto ten minutes and two minutes before they switch tasks, avoiding the need to constantly check their schedule.
Other team members will also be able to see what their teammates are working on through Slack status emojis, helping remote teams work closer together and improve visibility.
We've heard that surfers use up to 8 systems at once to do their job , not to mention the sea of tabs that come with working on tickets.
While Surfboard is critical in informing team members on when and what they are working on, we're obsessed with making working in a support team as frictionless as possible.
Slack is the most popular communication tool for customer support teams and aligns with Surfboard's collaborative approach to team planning. That's why we've chosen Slack to be our first notification integration partner.
We've heard from managers that a lot of their time is taken up by messaging surfers on Slack, reminding them when to change their task or when they aren't following their schedule. We know managers are extremely busy and it's another task on their endless list of things to do. That's why we've automated this with notifications.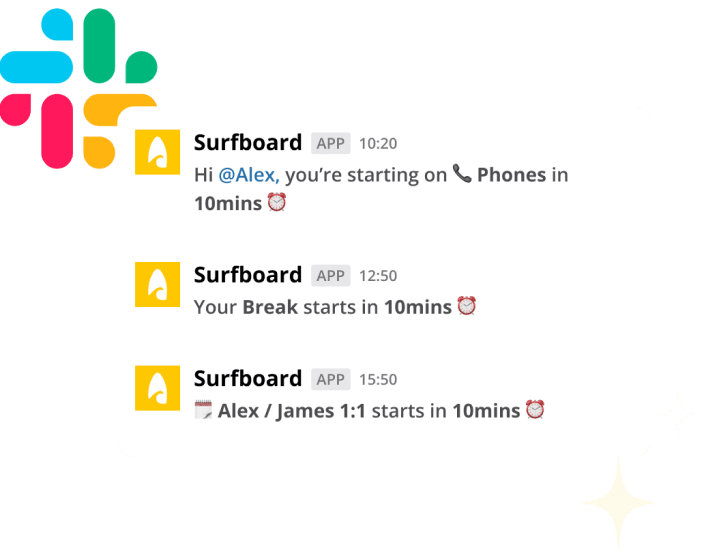 To continue our mission at Surfboard of working how teams work, we created an integration for Slack – the lifeblood of many support teams – that regularly updates surfers of their schedules.
How does it work?
It's extremely simple and intuitive. Surfers can link their Surfboard schedule with Slack directly on their schedule page. Once connected, a new Surfboard channel will be created in Slack, where surfers will receive notifications of when to switch activity, take a break or get ready to end their shift.
Surfboard sends surfers reminders 10 minutes before they're due to switch activity, giving them time to wrap up or handover to teammates, and then again 2 minutes before the new task is scheduled to begin, designed to reduce the need for Managers to chase up.
Surfers can also choose to sync their Slack status with their schedule, which will automatically update their status with the name of the activity they're currently working on, including any emoji labels used in Surfboard too. This means that the rest of their team can see who is online and what they are working on, improving team camaraderie and reintroducing the togetherness support teams felt in person, but for the remote and hybrid world.
If you'd like to learn more about the Slack integration, you can find our step by step guide for your surfers to add slack to Surfboard here.