Come and work with us
At Surfboard we're making work more human. Few companies have the right tools to manage their teams in a way that promotes job fulfilment and provides excellent customer service. We want to change this.
Inspired by our vision, we come to work every day because we know that creating happy and healthy working environments result in great customer service.
Why you should work here
Have a gigantic impact
Companies spend $75 billion a year compensating for poor customer service. There are 16 million customer service agents in the world and a lot of job frustration around lack of development, recognition and unfair decision making.
Solve a challenging problem
Customers expect fast, high quality service across various channels from agents who may be working in remote locations and juggling multiple tools. Information often sits in silos making planning and managing a team an enormous challenge.
Join at the most exciting time
We're at the very beginning of our journey. We're backed by some of Europe's top venture capital investors and a stellar set of angel investors who have built and scaled some of Europe's most successful technology businesses. We want to achieve great things, but with a small team, so you will be an integral part of the mission.
Make the world a better place
70% of shift workers have reported their shift patterns affect their mental and physical health. 40% don't know when they are working more than one week in advance. UN Development Goal 8 is to promote decent work for all. Unfortunately the tooling out there doesn't make it easy enough. We're changing that.
The values we live and work by
Aim high
To have a gigantic impact we need to be thinking out of the box. We're changing a very antiquated industry and so need to be constantly evolving the way we think.
Be pragmatic
We combine data and strong instincts to come up with the right approach that balances moving quickly with building things right. We focus on customer outcomes and do everything possible to achieve these.
Live the mission
Our mission is happy team, happy customers. This means what we build has to impact all stakeholders, avoiding any short term temptation or distraction.
Keep it simple
We're building a product to make things easier in a complex industry with numerous metrics, tools and working models. In order for us to build the best product, simplicity is key. Less is more and we also keep our communication simple and to the point.
Balance and fun
We do our best work when we have balance in our lives. We see our family and friends, we take holidays and we don't burn ourselves out. We know the work will never end but we'll only change the world of customer service by being healthy and happy.
Failing = learning
We're going to make bold bets which requires not being afraid to fail. We will make mistakes and as long as we own up to them, it's a good thing. We're also humble enough to not be afraid to say "I don't know".
Be relentless
We're solving a complex problem which means we will encounter setbacks and difficulty.
We don't let these stop us.
Own it
We each act for the company beyond our own interests. We're accountable to each other, our customers and the wider society that we're working towards improving. This means anything and everything is within our remit. We get things done.
Empower others
We have each others back and are reliable. We lift each other up so we as a company and as individuals can reach our full potential. We feel comfortable expressing an opinion but when a decision is made, we embrace it fully and pull out all the stops to make it a success.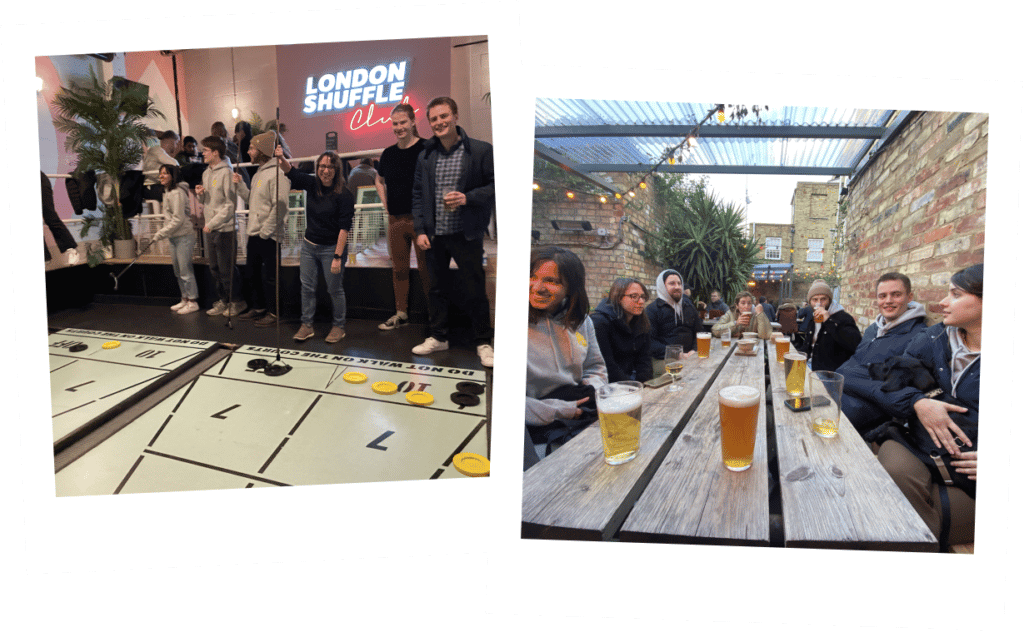 Life at surfboard
What's on offer
Competitve salary (see roles below for salary ranges)
Tax-efficient EMI share options
25 days holiday (plus 8 bank holidays)
Opportunity to take a month-long unpaid sabbatical after 2 years
£500/yr professional development budget
12 weeks paid parental leave for both mothers and fathers
Team socials (on an ad-hoc basis while we're small)
How we work
We think there's great value in in-person collaboration, especially at our early stage where we're still small and things change quickly. So we want everyone to come into the office a couple of days a week. The other days it's up to you whether you work remotely or in the office in Angel.

One of our values is balance and fun, and we're happy to be flexible around which hours you work, providing it doesn't affect our ability to collaborate as a team.

You can see our current team here.