Schedule how you want, when you want with Surfboard Plans

Surfboard is proud to present our new core shift planning feature, Shift Plans – a new, simple way to schedule your team however you want, whenever you want.
Here at Surfboard, our team continuously conduct research with support teams to understand more about how they actually work, so we can continue to build tools that fit around them, not the other way around.
We've learnt that shift planning can get really complex, even for smaller teams. Shift planning needs to work for the business, your team and your customers so a lot is at stake. Add on seasonality, timezones, peaks and even surfer holidays and scheduling gets messy, fast.
And, with the news from Breakroom that the percentage of shift workers receiving less than one weeks notice of their schedule has risen from 30% to 54% in the past year alone, preparation has never been more important for the wellness of your surfers.
That's why we created Shift Plans
Surfboard Shift Plans lets you schedule your surfers in different ways, so you can quickly and easily adapt your schedule to fit your needs.
You can think of a Shift Plan like a collection of settings – for each Shift Plan you create, you can choose which surfers to include (or exclude) and create flexible, holistic shift patterns that can be reused at any time. Whether you're creating your rolling business-as-usual Shift Plan, accommodating changing surfer preferences or planning for peak times like Black Friday, you can achieve it with a Plan.
Once your Shift Plan is ready, you are free to apply it to your Surfboard schedule for any period of your choosing – making it easier for your team to stay prepared and schedule your surfers further in advance while also having the power to adapt to short-notice changes like a flash sale.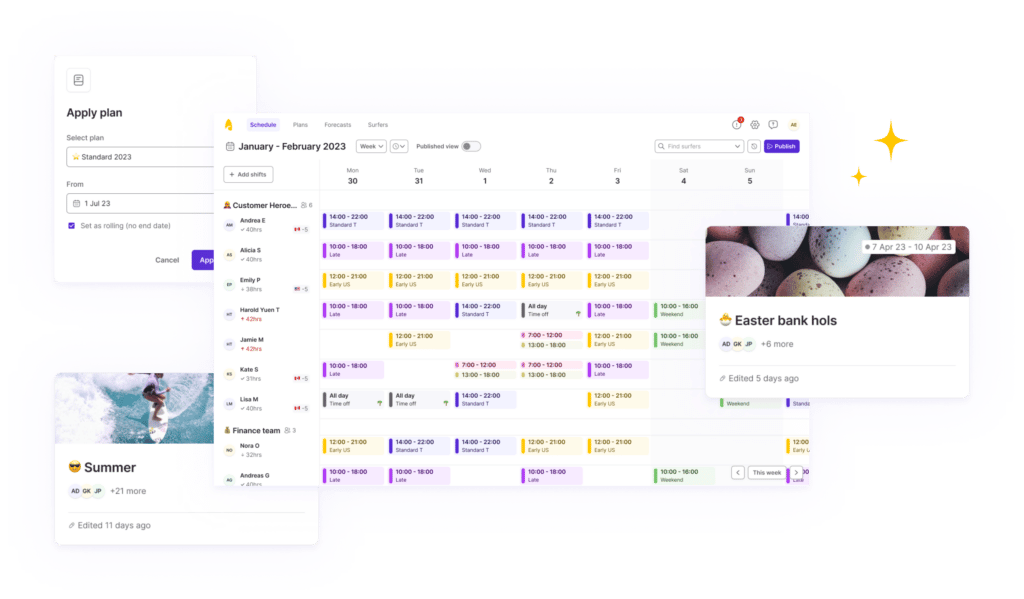 Planning for business as usual
Creating a standard business-as-usual Shift Plan is simple in Surfboard.
Using Shift Plans, you can plan and view all your Surfers' shifts in one place, allowing you to schedule the simple nine-to-fivers alongside the most complex patterned workers.
You can accommodate shift rotations of all different lengths, and across multiple timezones, all in one view, removing the hassle of jumping to different tabs, spreadsheets or notes. Surfboard's shift pattern builder is intuitive, quick and easy to use, and can expand to be as basic or advanced as you need it to be.
As part of Shift Plans, Surfboard is also excited to share our new round robin tool, that fairly distributes and schedules additional shifts across the team, taking away the hassle of tracking who's turn it is when planning your schedule. To make it even easier, you can also automate time off in lieu for those on rotation, to make sure your surfers get the rest they deserve, and stay within their contracted hours.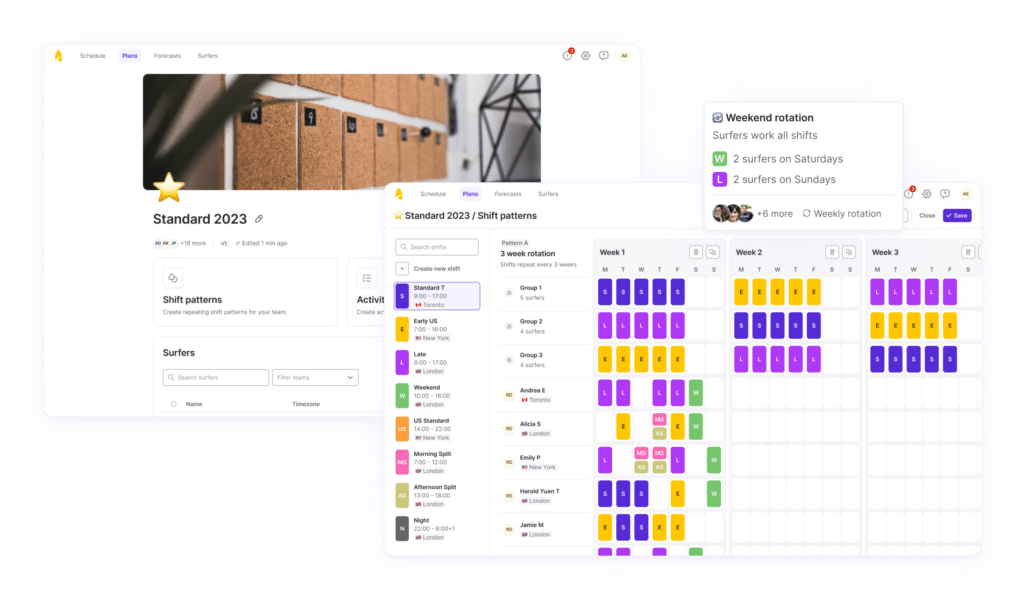 Made for better collaboration
Shift Plans can be worked on asynchronously, allowing you to better collaborate with other team leaders to build the perfect plans for your team.
For geographically-distributed teams, you can also share the load of accommodating local contracts and labour laws by collaborating on your Plans with other team leaders.
Shift Plans can also be edited at any time, meaning you can also work with your surfers to build a shift pattern that suits them and you. So if one of your surfers would like to amend their shift pattern because they've recently welcomed a new baby, been promoted to another team, managing an ongoing health condition, or joined a local five-a-side, you can work together to make sure they're assigned shifts that fit in around their lifestyle.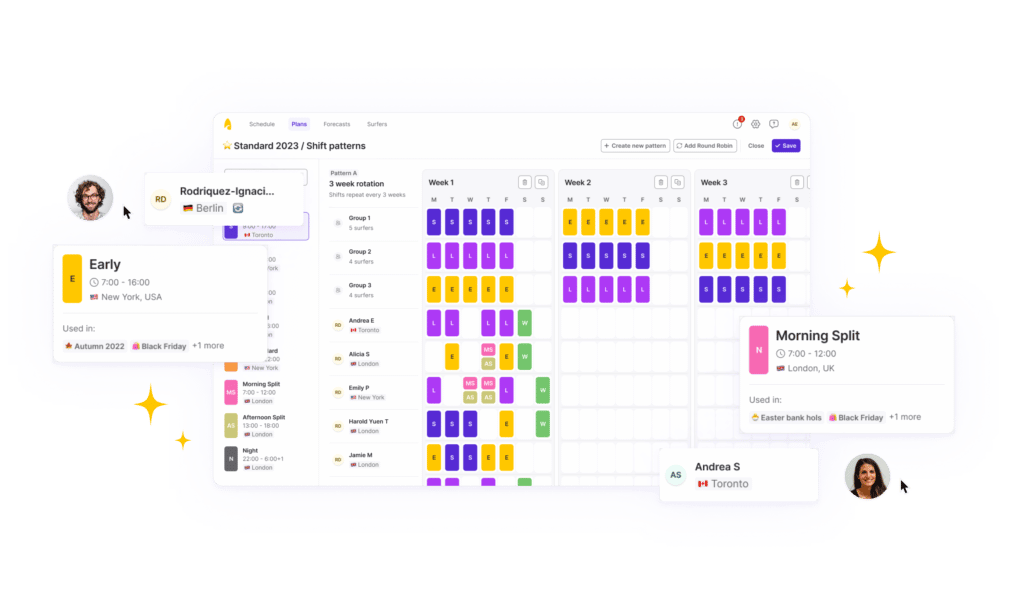 Surfing the peaks (not just surviving them)
Shift Plans really become powerful when you need to adapt to change. We know that planning for peak times is difficult no matter what your industry is.
Whether it's Black Friday and Christmas, tax season, or the start of the new school year, peaks usually involve some combination of extended opening hours, increased head counts, additional shifts, and overtime. All of which can disrupt your usual schedule.
Using Shift Plans, you can temporarily change how you schedule your team, without losing your well crafted business-as-usual schedule. Creating additional Shift Plans enables you to flow additional temporary surfers in and out of your schedule, move your team to different shifts like evenings or weekends, or even add split shifts to cover your increased customer contact.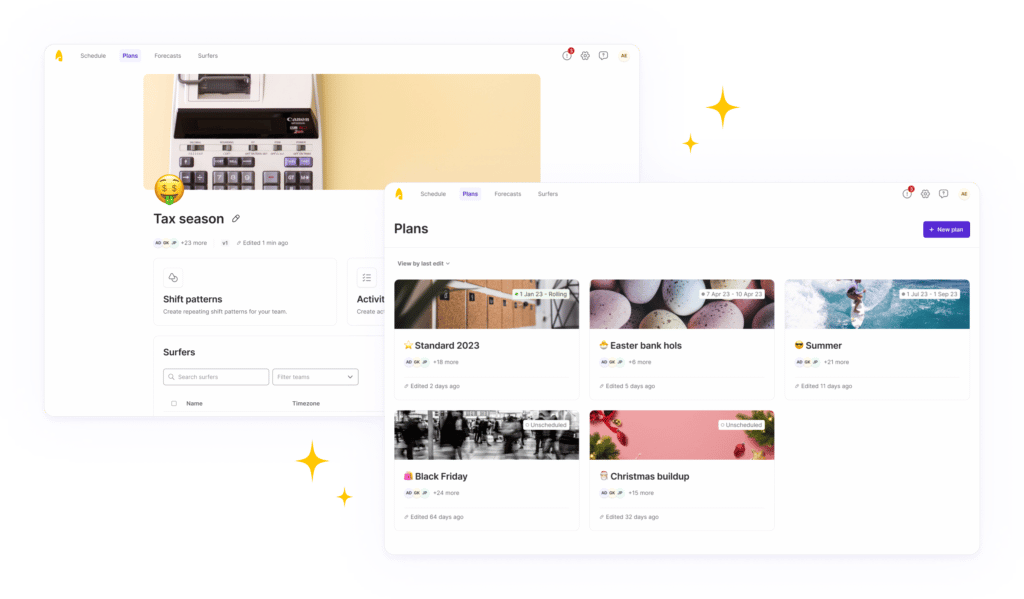 Making the most of quiet times
In the same way that Shift Plans enable you to better plan for peaks, they can also help you make the most of quieter times.
In the low season, such as the January post-Christmas slump or bank holidays, you may find you need less coverage than usual, or want to reduce your shifts. You can also use Shift Plans to cover these periods too.
For many teams, it can be useful to plan a few days either side of a bank holiday – so you can schedule to cover your reduced operating hours, while also planning extra time the next day to clear up your inboxes. Or you may want to schedule extra shifts for your teams in other locations, who don't observe the same holidays. Either way, there's a Shift Plan for that.
The only way is up
Shift Plans are just the first part of our ongoing new wave of exciting scheduling tools we're excited to share. We're committed to building the place where support teams come together and this is just the beginning.
To learn how you could improve your team's scheduling using our fast, simple and flexible shift planning tools, leave some details below and we'll be in touch to organise a product demo.