The state of shift working in the UK 2022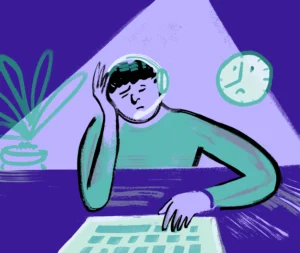 According to the HSE there are currently 3.8 million shift workers in the UK. It is often assumed that shift workers choose these jobs as they offer more flexibility and are a better fit for their lifestyles.
We've conducted new research alongside our friends at Breakroom. This has revealed that shift work often actually offers less flexibility causing negative impacts on health and wellbeing. 💡
Over 70% of shift workers report that working shifts have affected their physical or mental health.
30% of shift workers are doing unpaid overtime.
61% of shift workers don't get paid breaks.
As part of this research, 5,000 members of the Breakroom shift-working community were surveyed to uncover the truth about shift work from the people doing it. The results dispel common misconceptions about shift work.
One misconception is that shift workers choose to work shifts as it fits their lifestyles, but when asked, 74% of shift workers revealed they work the shift hours as that is when the job needs to be done and not because it fits their lifestyle.
In fact, 50% of shift workers have no input into their shifts and are unable to schedule them around their needs.
56% of shift workers think their shifts are poorly planned and don't take their needs into account. This is supported by the 48% of shift workers who have revealed they often have less than 12-hour breaks between shifts (the legal minimum is 11 hours) and 30% getting one week or less notice of their shifts.
Poor workforce management and scheduling processes is an overlooked issue with shift workers with employers taking an 'if it's not broken, don't fix it' approach to shift planning. Existing software isn't fit for purpose in ensuring scheduling is at the minimum level compliant with labour laws. At Surfboard, we believe fairness is a minimum standard that we have built into our scheduling algorithms. Shift workers need to be treated in a human way, but unfortunately human processes on spreadsheets make it hard to guarantee compliance and fairness.
Anna Maybank, CEO of Breakroom, said; "Since starting Breakroom, I've spent a lot of time talking to shift workers. A lot of these workers are parents with children or students looking to work around their studying. The people I've spoken to often said they took their job as it had been advertised as flexible, but they then discovered that their employers often push them into taking last-minute shifts at inconvenient times. Too often, what is 'flexible' for an employer isn't flexible for a worker. Employers claim shift work is flexible, but with 50% of workers reporting they don't get any say over their shifts, that's clearly not the case. Our research shows that there is a gap between what an employer thinks is a 'good' job and what is actually a good job. Thanks to our community of over 200,000 front-line workers we're able to help job seekers find out what a job is really like before they apply".
Shift workers are often left in the dark about their schedules, leading to stress and burnout. This research shows that 78% of shifts are planned locally at the branch or team level and it is frequently being done last minute. Poorly organised shifts are a huge hidden cost to businesses both from employee morale and retention but also down to proper planning and making sure you have the right number of staff in at the right time. Organising shifts on spreadsheets makes it hard for managers to ensure shifts are fairly distributed and allocated in advance. Surfboard's advanced tools can help managers rapidly improve their processes to achieve fairer, more sustainable outcomes for teams.
It was also revealed that 30% of shift workers are also undertaking unpaid overtime and 61% don't get paid breaks during their shifts.
The most concerning finding from the research was that 68% of shift workers reported that their physical or mental health had suffered from working shifts. This is compounded by less than 20% of businesses offering training around the effects of shift work.
With 4 million Brits currently doing shift work, it's more important than ever that people in frontline roles can make better-informed decisions about work and find a good job that is right for them.
Don't let a lack of software get in the way of fairly allocating shifts to your team. Get in touch and start using Surfboard today.
Get in touch