Why good workforce scheduling requires excellent and customisable forecasting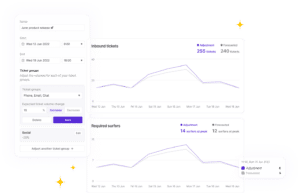 We've released the ability to customise your forecasting so you can make Surfboard a more powerful and trusted assistant in scheduling your team to meet your customer demands.
Accurate forecasting helps contact centre managers understand how many agents are needed online to meet your target response time; or SLAs. It can help your team deliver an exceptional customer experience, keep team morale high and reduce a backlog from building up.
At Surfboard, we build workforce forecasting models based on your historical ticket data.
By looking for patterns in how volume changes over time we predict the number of tickets your team is likely to receive. But we know that historical data only paints part of the picture. Often, there are internal factors in your business that aren't visible in the patterns of your telephony or ticketing system.
Planned activity like marketing campaigns, mass customer communications, product launches or price changes can dramatically impact inbound enquiries. Which is why we designed our newest feature, Forecast Adjustments.
What does "Forecast Adjustments" mean?
There are often factors in your business that you're aware of but your automated internal systems are not.
To plan for these events, you need to have an idea of the percentage uplift you expect to receive. By building forecast adjustments into our workforce management system, we give managers the ability to manually adjust forecast volume for specific periods.
And it isn't all we've done with this latest update. Various big improvements mean managers have more control and freedom when viewing their forecasts so keeping customers and teams happy is easier than ever – and built into your system.
Adjusting your forecast for special events
While there are many models available that take into account a wide variety of factors – Erlang C, for example – no one knows your company and team like you do. Surfboard's new features allow you to take that insider knowledge and plug it into your workforce management. This exactly what we mean by making Surfboard a trusted assistant for your workforce scheduling – we want to automate and make it easy for you to transplant what lives in your head so that your team is set up for success in the easiest and most efficient way possible. And it means you can take a holiday every now and then with Surfboard able to reliably cover your needs.
Once you've made adjustments, detailing when the changes take place and the volume, you can preview the effect on forecasted ticket volumes and number of surfers needed. Hit save and voila! The updated forecast is then considered for scheduling to optimise your team for the required period.
Track your adjustments for future forecasting accuracy
Even with business insights and data, predicting volume change for events can feel like a 'finger in the air' approach. By tracking each time, we allow you to look back and track accuracy so your next adjustment is even more accurate. Over time, your historical data not only includes traditional business events but all the manual changes made and just how accurate they were.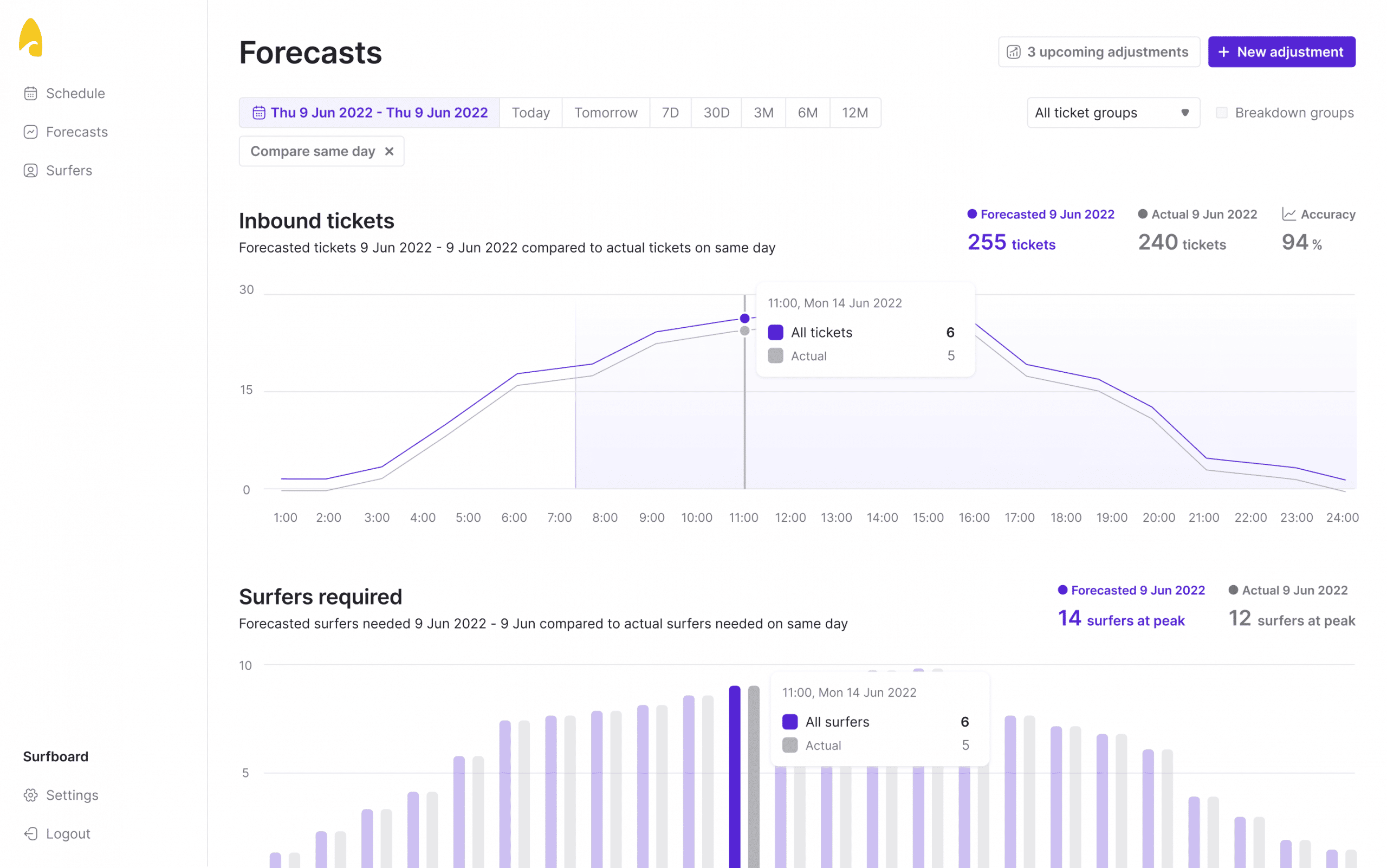 New and improved forecasting views to suit you
Your forecasts are unique to your business and may require different views based on the question you need answering.
This is why we've redesigned our core forecasting feature to give you more control and flexibility. Simply select the ticket groups you want to forecast and either view as a whole to get the big picture, or break them down to dig into the detail. And with charts that automatically adapt to show the detail you need, you can quickly and easily move forwards or backwards in time.
Get the context you need with forecasting comparisons
Understanding the context within a forecast, and the changes you need to make, isn't always easy – which is why we've built in forecast comparisons.
Whether you're asking how volume changes over weeks, months or years, you can get the answer with the Surfboard Compare feature.
Compare forecasts against the previous day, week, month or year to show the actual tickets received and number of surfers you need. This complete visibility helps you to understand how your forecast compares and adjust to any late minute schedule changes. In the spirit of full visibility, Surfboard also lets you compare actuals for the same period, so you can analyse accuracy over time.
Start using Surfboard today
To find out more about how you can improve your forecasting accuracy using Surfboard, get in touch using the form below:
Get in touch: