Paymentology automates global scheduling with a click of a button with Surfboard

About Paymentology
Established in 2014, Paymentology set out with a vision to revolutionise the payment processing domain. As a testament to their commitment to top-tier services, they've consistently provided a superior Cloud-based infrastructure, ensuring banks, digital banks, and fintechs can issue and process cards with unparalleled efficiency. Today, as the premier global issuer-processor, they span 50 countries, offering 24/7 support across 14 time zones and empowering banks and fintechs to redefine the boundaries of card issuance and processing.
Company size: 250-500
Industry: Payments
Headquarters: London, UK
Founded: 2014
The challenge
As Paymentology expanded globally, the challenge of keeping up 24/7 coverage across multiple time zones became increasingly evident. At the heart of their operations is the Zendesk ticketing system, which sees a varying influx of tickets throughout the week. Coupled with the team's presence on Slack, achieving consistent, round-the-clock support turned into quite a puzzle 🧩
"You know when you have the responsibility of scheduling staff over four shifts in three different teams with multiple daily tasks attached to those different teams and it takes hours out of your work week? That's what we were suffering from." – Jacqueline du Plooy, Regional Customer Support Manager
Sorting out holiday requests felt like playing Tetris for the Paymentology team, with overlaps often leading to team friction.
The diverse shift patterns, varied surfer (agent) tenure levels, and the myriad of activities each shift had added layers of complexity. Paymentology needed a robust, user-friendly, and intuitive scheduling solution to cater to their ever-changing operational demands.
Surfboard's solution
Surfboard's extensive integrations and dynamic scheduling tools provided Paymentology with the agility to manage fluctuating ticket volumes and complex activity structures, ensuring seamless global operations amidst their expansion.
Advanced Integration with Zendesk and Slack for Optimal Coverage
Surfboard's integration with Zendesk allows Paymentology to tap into ticketing insights, providing a clearer picture of customer interactions and ticket volume trends. This is complemented by real-time Slack notifications, ensuring surfers remain on task and are always aware of their upcoming responsibilities.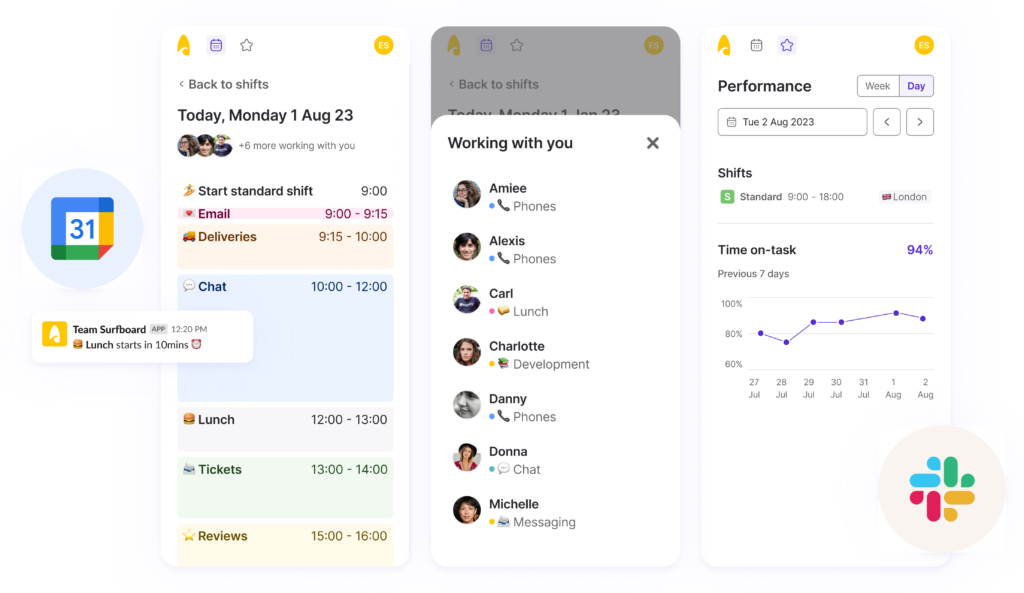 One-click seamless integration with Paymentology's tech stack (Zendesk, Slack, HiBob)
The integration with HR platforms, notably HiBob, also streamlines scheduling for Paymentology's global team.
Holiday requests and other HR-related scheduling nuances from diverse locations are automatically reflected, reducing managerial efforts and ensuring precise shift coordination.
This integrated approach amplifies efficiency, ensuring Paymentology's global clientele always receives timely and exceptional support.
Jacqui has been extremely pleased with how quick and easy the Surfboard implementation has been: "Super cool partner to have onboard making my life easier! Thanks Surfboard!"
Adapting to Global 24/7 Service with Dynamic Scheduling
Paymentology's diverse global teams handle a wide range of activities.
With metrics from Zendesk, team managers can optimise schedules to match ticket volume fluctuations.
Surfboard's activity plans empower managers to swiftly create tailored schedules for each team, addressing unique activity demands of different markets with ease.
"These guys, came in put all of that into the click of 1 button, yup just 1 button and an entire month of shifts and schedules and activities done! I feel a bit like I have the power of Thanos!! 🤣 " – Jacqueline du Plooy, Regional Customer Support Manager
Multiple round-robin rules to make shift distribution more equitable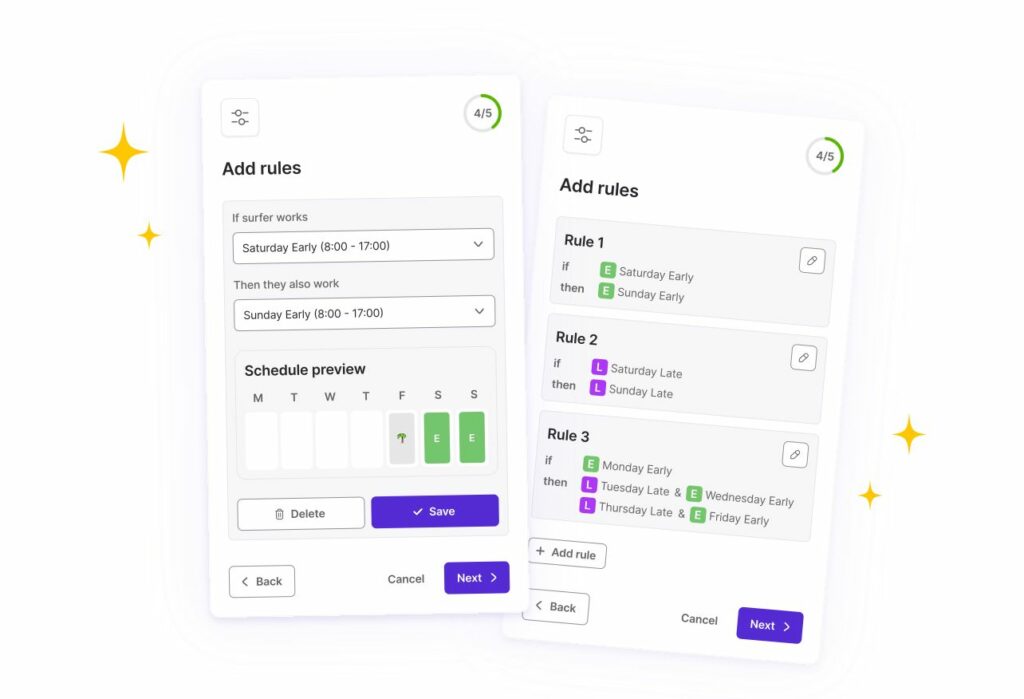 Equitable shift distribution for surfer of various experience levels with round-robin scheduling
Recognising the varied experience levels within Paymentology's workforce, multiple round-robins ensure fair and appropriate shift distributions. This approach champions fairness and helps cultivate a motivated workforce.
With their diverse tasks they need scheduled such as system monitoring, customer interactions and internal tasks, Surfboard's dynamic scheduling ensures Paymentology's global customer support operations are always equipped with the right personnel, 24/7 ⏰
Book a demo today
Interested? Book a demo today to see what Surfboard can do to transform your customer support team scheduling.
Book a demo