6 tips for working in a remote customer support role

Remote working has become the norm for many people in today's workforce. Regulations around flexible working are becoming more common. As such, flexible working is even more attainable for the modern workforce. Its popularity is undeniable, with 84% of UK workers saying they plan to work in a hybrid model.
One industry that had to make a significant transition from in-office to remote working is customer support. Previously, many teams will have worked in the office beside one another. With the sudden shift towards remote work, support agents (or surfers, as we call them) had to change their working style overnight.
Most online content relating to remote customer support teams talk about management practices and how to get the best out of surfers. What is lacking is content from the surfers point of view. We wanted to collate some of the best advice we have for surfers working remotely.
We know that customer support can be tough, so we hope these tips can make the remote support experience that bit easier.
Tips for customer support agents who work remotely
Find a space that works for you
When initially shifting to remote work, I used a wooden chair and sat at the kitchen table. I thought "this will only last a few weeks, it's surely not that big of a deal". Fast forward a few years, and the importance of a comfortable chair is, in my mind at least, central to the remote working set up.
Chairs aside, finding a quiet, comfortable spot for remote work that is conducive to positivity is super important. Since you're going to be spending so much time working at home (or wherever remote means to you), it's worth finding a spot that works for you, and doesn't interrupt your workflow.
Quietness is a particularly important aspect of the remote working setup. As you can imagine, if you're helping a customer over the phone and the train is passing by your window every 5 minutes, you may need to find a better spot to work from.
Talk to your team
The importance of staying in touch with your team is something you don't think about when working in-office. Mostly because they're all around you. When working remotely, it can be a little strange when things are super quiet and if you're working in a room on your own.
Our advice is to chat to your team openly and often.
It doesn't have to be about support related issues or technical stuff. It can be about anything at all. The important thing is to stay in touch and chat the way you would if you were sitting next to one another. At Surfboard, we use Slack to stay in touch when working remotely, and we love it.
Take your breaks
When working remotely, it's easy to forget about the details of your schedule and stay on a task even if it's eating into your break time. You might think that staying on live chat for another 10 minutes is helping out, but the best thing you can do for yourself and your team is to stick to your schedule the same way you would if you were working in-office.
For surfers who use Surfboard, they get reminded via Slack when they need to take their breaks or change tasks. Pretty cool, if we say so ourselves.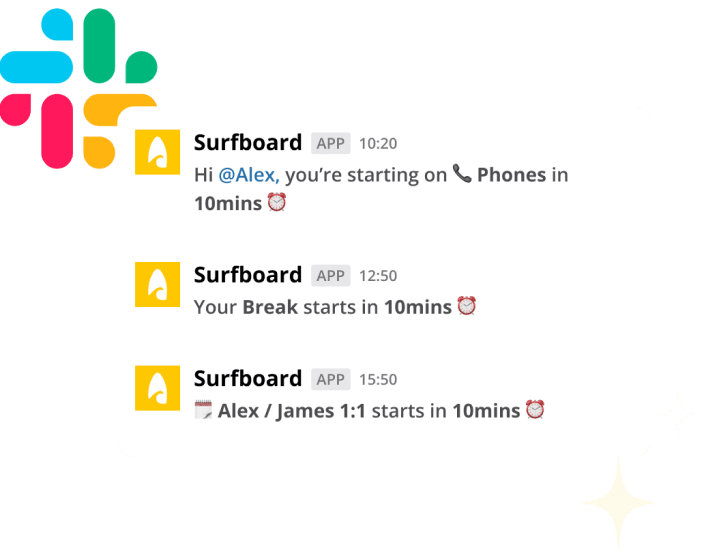 Going for walks, or getting outside is often a favourite of the Surfboard team when we're working remotely. Next time you're thinking of squeezing in an episode of the office on your break, try to get outside for a quick walk instead. We promise you'll feel more energised and ready to tackle the day.
Ask questions (particularly if you're new)
Starting in a support team, particularly in a contact centre environment, can be very challenging at first. There's so much to learn, so much to do, all while calls, emails and live chat are coming your way. It's a lot.
Asking plenty of questions at this stage, and throughout your support career, is vital. Ask questions to team mates, managers, and anyone who will listen. It can sometimes be nerve-wracking asking so many questions. Remember, we've all been there. Your colleagues and team leaders have been there, and they certainly know how it feels. All they want is for you to succeed, after all.
In a remote setting, it's easy to let things go and continue on to the next task. There's more friction in a remote setting, compared to sitting next to your team in the office. It's easier to tap a colleague on the shoulder and ask a question. Messaging a colleague is a bit more involved, and sometimes they might not see the message. Nevertheless, making that extra effort is worth it, as it connects you with your team and enables you to become more comfortable in your role.
Remember, it's not personal
This applies to customer support roles of all kinds, whether or not they're remote, hybrid, or fully in-office. When a customer gets frustrated and says something unpleasant, it's often totally down to their own frustration, or issues they are having themselves. It rarely, if ever, has anything to do with you, your ability, or efforts. After all, you're the one trying to help them.
It's vital to remember that it's not personal. This is often forgotten with the move to remote working. You often won't have the same level of support that you would if you were sitting next to your team. We in support need to be reminded of this consistently. It's a reminder to reach out to your team when you're feeling stressed. They'll rely on you too.
Try to fit your remote role around your lifestyle.
One of the nicest things about working remotely, is that you have more flexibility over fitting work around your life. If you like to go surfing first thing in the morning, you could start that bit later and work into the evenings. Parents have the freedom to put their children's needs first. Early birds can spend the first two hours of the morning getting through that stubborn email backlog.
These activities seem simple and obvious when support teams are working remotely. This is something that would be acutely difficult and stressful if they had to be in the office for rigidly scheduled shifts. With the shift to remote working, surfers can organise work around their individual needs, while team leaders can make sure they have more coverage. Customers, like surfers, have busy schedules, and may not be able to contact support teams during the day if they are busy.
Where does Surfboard fit in?
At Surfboard, we make collaborative software that empowers customer support teams to connect when working remotely. If you'd like to find out more, feel free to leave your contact details below and we'll be in touch in no time to schedule a call.
Get in touch: