Developing the right team structure for your contact centre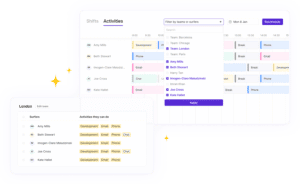 We've just released the ability to set up Surfboard with your existing team structure, whether that's different geographies, skills, or management lines, Surfboard can work how your team works.
Delivering five star customer support isn't easy without organising your team to be set up for success. Building distinct teams within your wider support structure is beneficial to both your surfers (what we call agents), your team leads, and ultimately your end customer.
By providing strong team frameworks and ways of working, you ensure your surfers and managers have the tools they need in order to thrive in their roles. With happy and productive teams, delighting customers becomes easier than ever.
How strong teams support surfers:
Encourage collaboration and problem solving
Build team spirit and strong support networks
Clearly define responsibilities and lines of communication
Create opportunities for development and leadership
How structured teams benefit managers:
Make delegation easy and effective
Meet customer expectations by quickly directing them to an expert in their issue
Simplify day to day operations and managing growth
Help managers more easily track and meet SLAs and other KPIs
Build self-sufficient teams and reduce micromanagement
How to structure a CS team
It's easy to rush structuring your team, but in the long run, taking the time to set up balanced and efficient teams benefits you, your surfers, the service you provide, and ultimately customer satisfaction.
The people you need in a good support team:
Leadership – Segmenting your larger CS team into smaller teams requires identified leadership in order to avoid micromanagement and ensure teams are self-sufficient. Team leads play a vital role in keeping surfers motivated, on target, and keeping lines of communication open and clear.
Frontline surfers – The bulk of a standard support team will be made up of surfers who engage with the majority of your customers confidently and empathetically. These surfers should have similar skillsets for two reasons. Firstly, it means customer interactions can be handled by anyone, no matter who picks up the phone. Secondly, it means that your team can more easily swap shifts and activities and support each other in general.
Experts – These are the surfers in the team who have training and experience in specific areas. They'll be taking on the tricky issues, and will be who your frontline surfers turn to when a problem needs more detailed attention.
New talent – When growing your team, it's important to consider how new joiners fit into a team. Allowing new joiners to shadow existing teams provides opportunity to learn in context, form relationships with team mates, and ease themselves into the role. It also gives frontline and expert surfers a chance to develop their leadership and coaching skills as they progress in their career.
Dedicated training – Whilst this may not be the sole responsibility of a team member, defining coaching as one or more surfers responsibilities is crucial when it comes to building self-sufficient teams. Making sure your surfers are honing their skills helps provide real career fulfilment, reduces churn, and works to improve your key targets.
Surfboard makes managing teams a breeze
Because teams play such an important role in being able to deliver a fantastic customer experience, we've built a flexible and simple way to manage your teams in Surfboard, exactly how you do outside of Surfboard.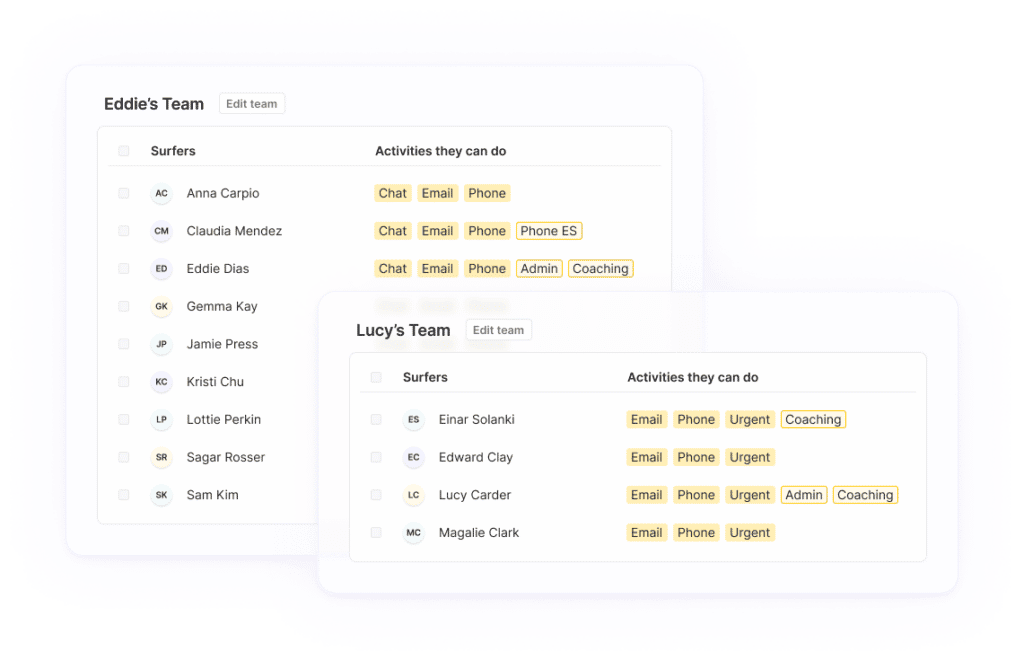 Organise your surfers into teams
Group surfers however you like, into as many or as few teams as you like. Whether its location based or a team of center managers, you can organise your team in a way that makes sense to you.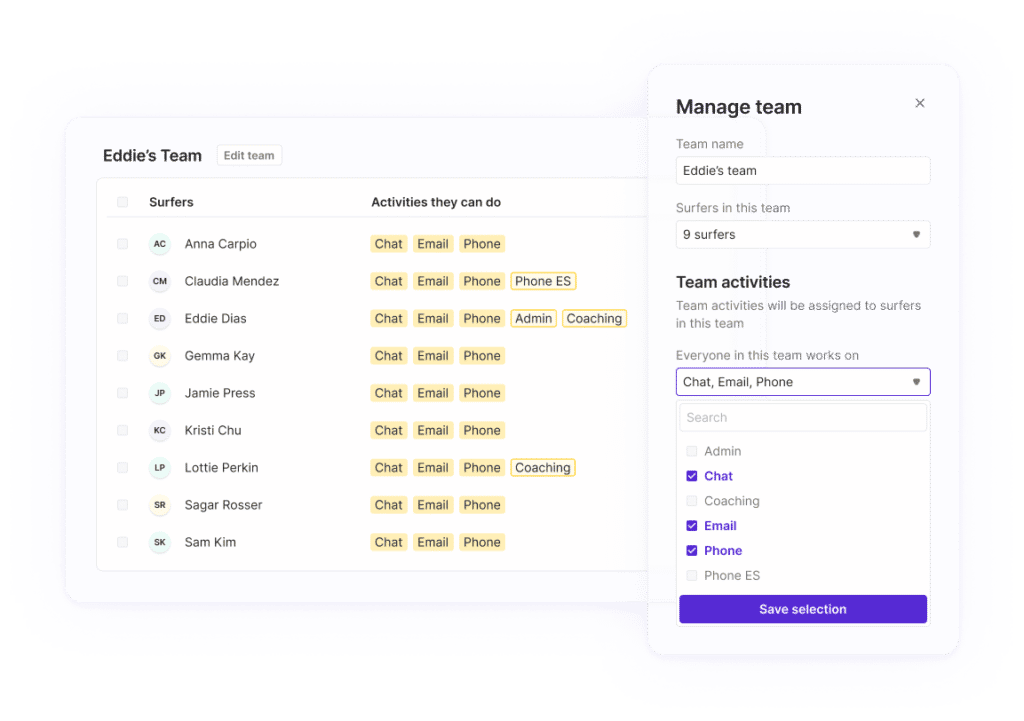 Assign team activities to surfers
By grouping surfers, you can easily apply team-wide activities to all surfers in that team. This becomes incredibly useful when onboarding new surfers – simply add them to a team and they'll inherit its activities. Surfers will also lose any team activities if they're removed from that team, making restructuring your support team a whole lot easier.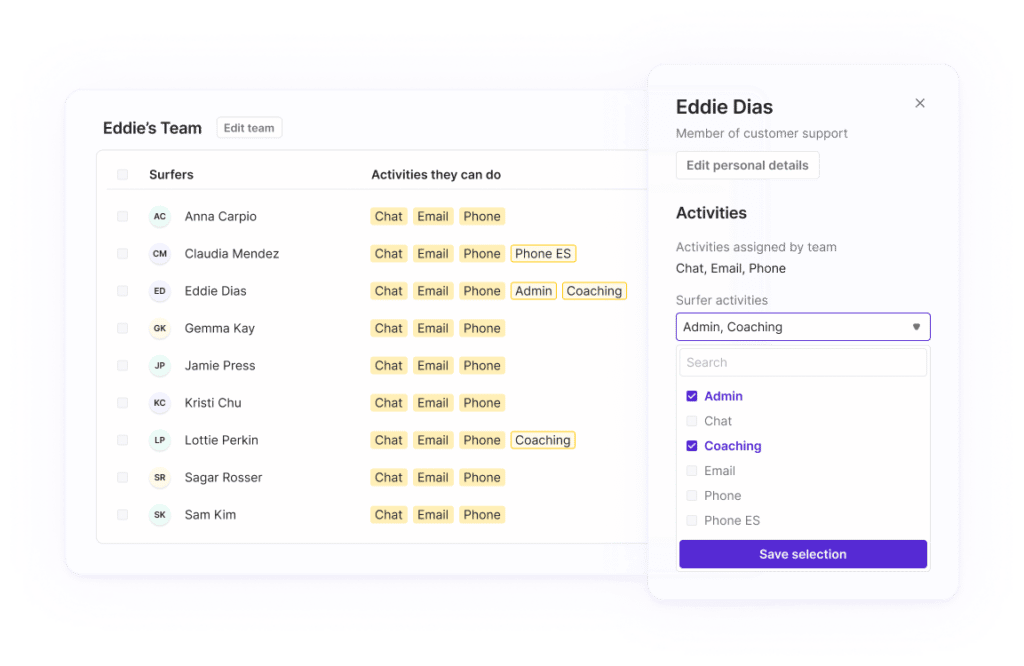 Assign custom activities
Surfers can be assigned custom activities alongside team activities. These are tied to the surfer, so they'll stay with them no matter which team you put them in. This can be used to create hierarchy within a team and to assign specific activities to surfers with unique skills.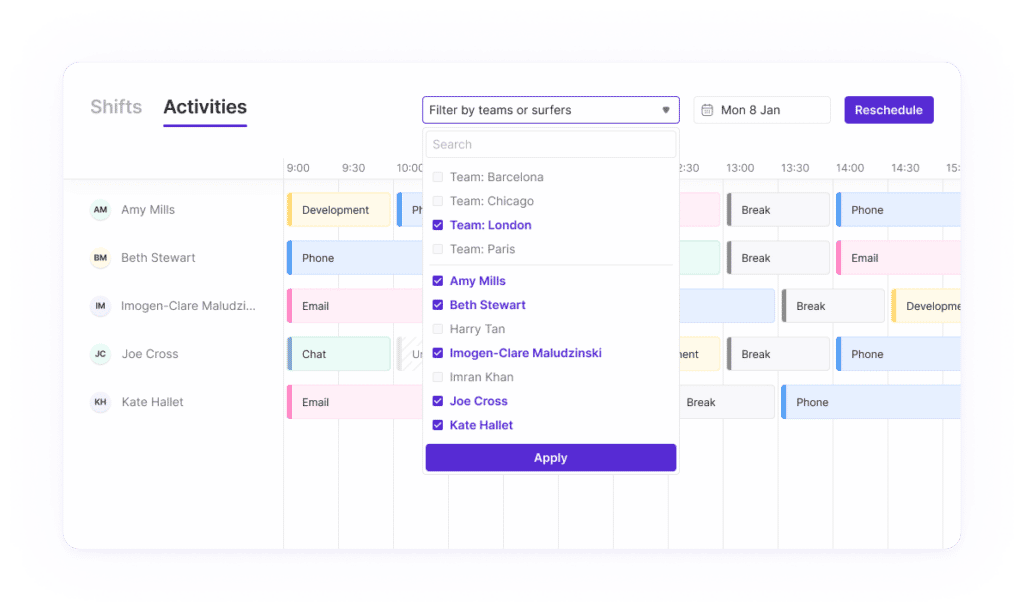 Customise your schedule view
Narrow down your view by using our team and surfer filter – easily view activities and shifts for a specific team to make team leadership easier, or get a big picture view by showing multiple teams together. You can also filter schedules by surfer to get even more granular.
Get started with Surfboard today
Get in touch with nora@teamsurfboard.com to find out more about what Surfboard can do for your team, or leave your details below and we'll schedule a demo.
Get in touch: