Summer '23 Make it Sparkle time

One of our four values at Surfboard is to 'Make it Sparkle'. It may sound cute, but in practice, it reminds us to go the extra mile in everything we do, to make every interaction with Surfboard or a Surfboarder (our team) the most delightful part of someone's day ✨
Make it Sparkle can translate into Product, through a delightful feature, Customer Success through receiving extra-mile support, or even Sales with a tailored sandbox or demo.
Make it sparkle time
One way that we act on this value in our Product Team is our 'Make it Sparkle time'. These are 2 days a quarter reserved for building fun, delightful features for our app, that usually wouldn't make the cut in the world of roadmaps and prioritisation.
We know that our customers live in our product, and we want their homes to be the comfiest, most enjoyable place possible 🥰
The team are free to suggest and pitch ideas throughout the quarter, which can then be cherry picked by the Product team when Sparkle time comes around. There are no real rules but here are our guidelines:
The main constraint on 'what' is to create something which adds customer value and obviously sparkles ✨
Something surprising, something unexpected. Low effort, high sparkle features and tools that make our product more loveable for surfers and managers alike, are best 🌈
Customer value is broad and we recognise that customer value doesn't always have to be customer facing 🎁
After selecting ideas, Engineers and Designers collaborate to create a feature that can be designed, built, tested and shipped in a matter of days. This experimental time is popular with our team and gives us all some respite to flex our creative muscles too.
This quarter we split into two camps, spreading our Make it Sparkle time across two weeks. At the end of each week, the teams shared their creations before a final show and tell to the whole Surfboard team at our weekly meeting.
What we built
Week 1

In the first week, the team worked on a number of ideas, eventually shipping a Clear Schedule feature. This feature allows schedulers to easily clear out weeks of shifts and activities for multiple surfers in one click.
Here's what engineer, Alex Boyling had to say about his Clear Schedule feature:
"I wanted to build something that freed up time for both our CX team and our customers. Clearing the schedule was something that could already be done but it required a workaround and lots of clicking.
The feature I built now allows you to clear the schedule in a couple of clicks and targets just the dates and surfers you want. I see it as the first of many tools we will build into the schedule that take complicated and/or repetitive tasks and streamlines them, freeing up the managers time to focus on more important things.
For me 'Make it sparkle time' means the opportunity to implement small features like this. Something that on its own doesn't sound overly impressive and is unlikely to be prioritised but once released we wonder how we lived without it."
Week 2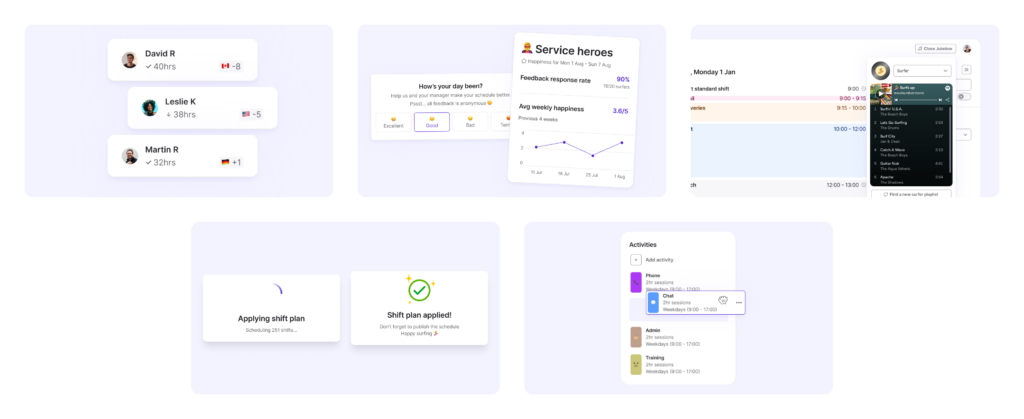 In the second week, the slightly larger team developed lots of creative routes including surfer profile pictures, success animations, interactive editing, a surfer jukebox and a 'rate my shift' feature.
The team went on to ship Surfer Profile pictures, by syncing surfer's Google SSO photo, added in a new success animation to better inform users of an action and finally, we went on to extend the work on 'rate my shift' to make it a core part of our newly released performance page (we're still hoping to sneak out the jukebox soon!).
Here's what engineer, David Mynors had to say about his feature, Surfer Profile Pictures:
"One of the things I've enjoyed most about working at Surfboard is that we go out of our way to inject personality into our product, and relish opportunities to put a smile on customers' faces.
As an engineer, that sometimes means sneakily working on a feature when you get a spare moment which you can later surprise people with in a company meeting product demo, but there are also some features that you'd really like to build but are surprisingly fiddly and ultimately "nice to have". Because we're constantly trying to ship new features and iterate on existing ones as customer feedback rolls in, these "nice to have" features can be left by the wayside and sparkle days are our way of giving them a chance to see the light of day.
For me, that was getting surfers' profile pictures in the app. Not the most bombastic feature, but hopefully something that put a few smiles on a few faces on release, and that will subtly raise the 'warmth' of the product as a whole."
We'll be back again next quarter with another round-up from our Product team. In the meantime, any sparkle ideas are welcome! Just reach out to our team 🤙