Plan every kind of shift with Surfboard's shift pattern builder

We recently announced our new core shift planning feature, Plans – a new, simple way to schedule your team however you want, whenever you want. Now, we want to dive in deeper to our interactive, speedy and simple to use shift pattern builder available as part of this suite of tools.
We know that shift patterns are never straight forward or cookie cutter; when planning shift patterns for a team, a planner needs to juggle contracts, operating hours, labour laws and surfer preferences (to name a few).
From our research with customer support teams, we also understand how important coverage is as part of this. But, without a clear view of all your team's shifts in one place, meeting your requirements (whether they're business or preference led), can be hard to achieve and many teams are falling back to spreadsheets and notes to keep track, regardless of what tools they've tried.
Meet your new interactive shift pattern builder
Surfboard's shift pattern builder is a completely interactive, visual way to plan your surfers' shifts in one holistic view, giving you full transparency over when your surfers are working and how that relates to the rest of the team.
The builder was designed to be ultra-flexible, meaning you can plan the most complex shifts patterns alongside the simplest. The shift pattern builder expands when you need it to; so you can easily create long, complex rotations like a 24/7 or Panama Shift pattern, or stick to a simple Monday to Friday.
When building your shift patterns, the shift panel lets you browse, edit and create new shift types quickly and easily. To add shifts to a pattern, just click. That's it.
To make the process even faster, you can also add, duplicate or remove weeks, as well as copy and paste. You can also group surfers, allowing you to easily handle group rotations in your team. For example, if you rotate groups through earlies, mids and lates, week-to-week.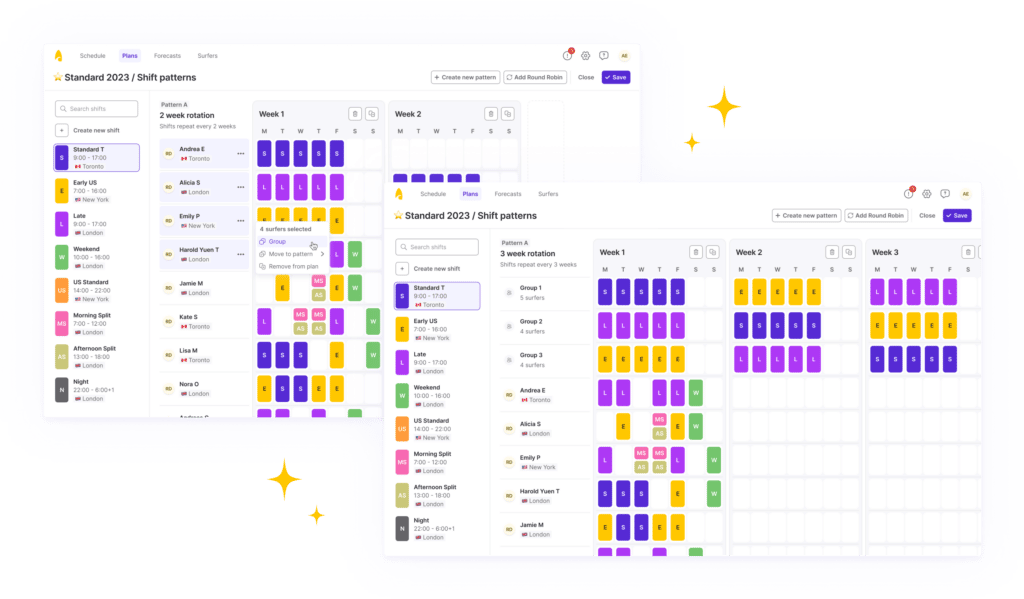 Shift patterns that offer more flexible working options
You can offer your surfers a variety of shift options using the shift pattern builder in Plans.
You have the freedom to create as many types of shifts as your team need, from early's and lates, to overnight and part time shifts. You can also plan up to 3 split shifts per surfer, per day inside of the shift pattern builder, allowing you to be more accommodating to flexible ways of working (e.g. for students or parents) or to better schedule outsourced teams.
With Surfboard's new round-robin feature, you can also generate rotations for specific shifts, like weekends or lates, that you want to equally share amongst your surfers. Simply input the shift, staffing required, time in lieu and Surfboard will share scheduling automatically for your team.

Scheduling in multiple timezones
Planning for surfers in multiple timezones is easy using Surfboard's shift pattern builder.
All surfers are assigned a timezone location during set-up, which shows in both the shift pattern builder and in the Schedule – so you're always aware of where your surfers are located when planning shifts.
You can plan shifts from any timezone all within the same pattern, allowing you to maintain one, complete view of your shifts, no matter where your surfers are located.
Each shift you create is also tagged with a timezone location, so that Surfboard does the hard work for you, and automatically schedules shifts in the correct timezones. No more time wasted calculating time differences.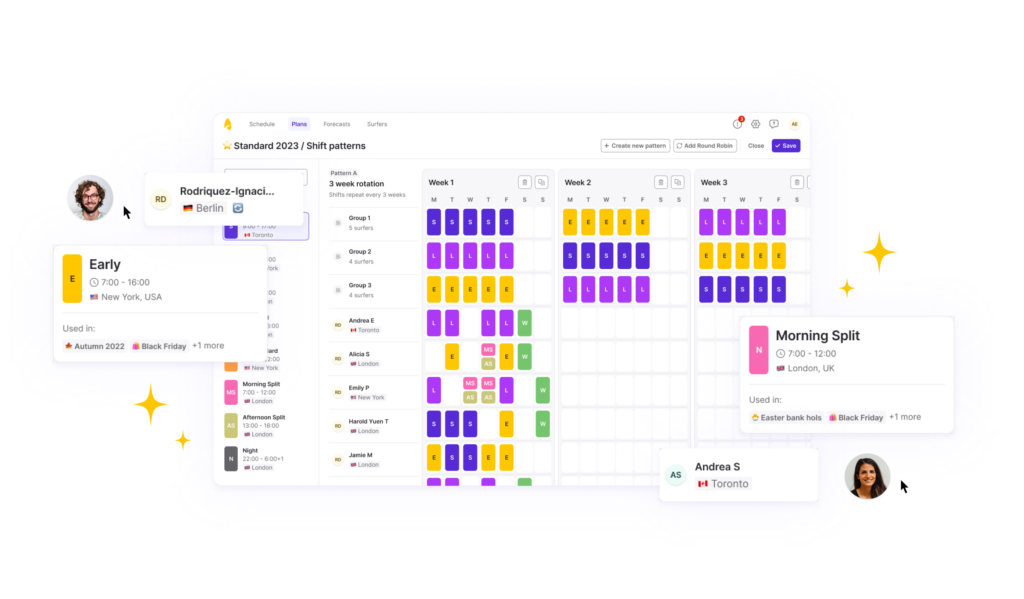 Shifts that look the way your team are used to
You can personalise each of your shift types with a colour and label, making your shift patterns even more scannable. This also allows you to carry across any existing colour languages you've developed in other tools, making onboarding a breeze.
Power up your scheduling
Surfboard's Shift Pattern Builder combined with Plans offers your team unmatched flexibility and control to schedule your team however you want, whenever you want. While enabling you to support your team and access new talent by offering more working styles.
We'll be sharing more details on our round robin feature soon, so you can find out more about how Surfboard can take away the stress of scheduling, giving you more time to connect with your team.
Reach out to learn how you could improve your team's scheduling using our fast, simple and flexible shift planning tools.
Get a demo: