Spreadsheets are out. Welcome to your new Surfboard schedule.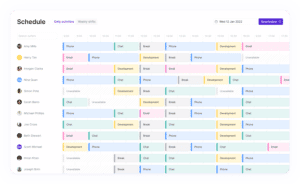 It's time to get onboard. You can now view and manage your team's schedule all in one place using our new weekly shifts and daily activities views.
Surfboard takes your surfers' contracted hours, shift patterns, and planned time off and automatically generates your schedules with zero clicks. Our shift plans are also easily editable, so you're free to make any edits or last-minute changes on the fly.
Daily activities take the stress of spreadsheets and morning planning sessions away from managers by planning your days a week ahead. Surfboard looks at which activities each surfer can work on and intelligently schedules their days, helping you achieve the best coverage possible while also making time for training, admin or meetings. And, our flexible activity settings and baked in fairness rules mean your surfers will be rotated to different tasks, preventing fatigue and sharing responsibilities across the team.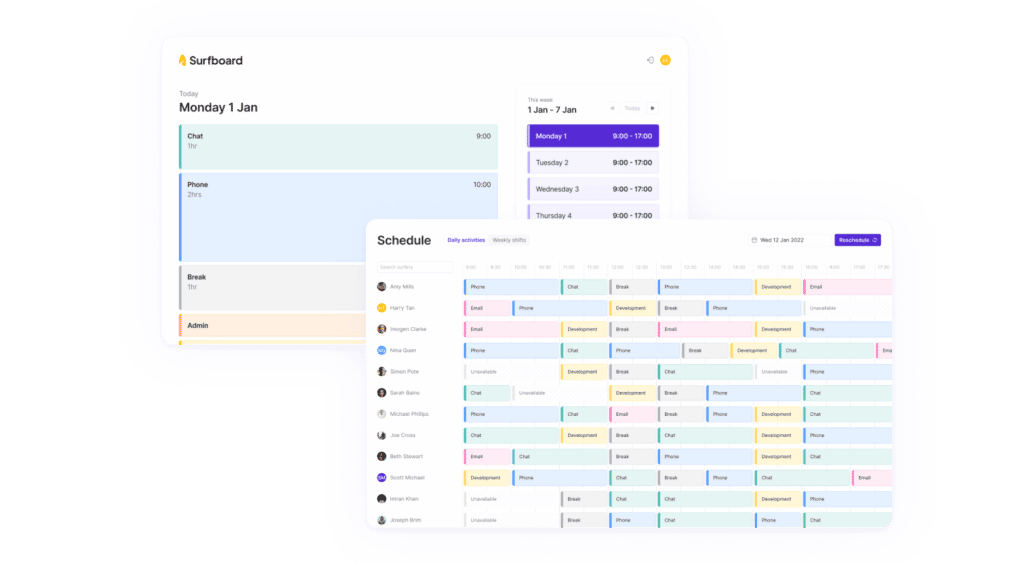 Drop into the surfer app.
With a recent report showing 66 percent of agents get one week or less notice of their shifts, creating a tool for surfers has been our priority here at Surfboard.
Our new surfer app shares each surfers shift and activity details with them directly, taking the burden away from team leaders and empowering surfers with ownership of their schedule. The simple mobile first design means it's easy for surfers to check their schedule on the go or at home as well as on their work computer.
In the app, surfers get 8 weeks notice of their weekly shifts, meaning they can plan their lives around their work with much more notice. The daily activity view provides a timeline of surfers days, so they know which tasks to work on at anytime throughout their shift.
Ready to get started?
Get Surfboard into your hands to see if it solves your scheduling challenges.
Sign up for a free trial