Surfboard x Klaus Partnership Announcement

We're delighted to announce our partnership with Klaus to provide support teams with best in class scheduling and quality management software.
Through our bundled offering, you can access Surfboard's simpler, smarter and fairer scheduling and forecasting software, alongside Klaus's industry-leading customer service quality management platform.
We know that quality assurance and scheduling work hand in hand, but we also know that support teams are best served by brands that build what they know best.
Both Klaus and Surfboard are built through a relentless and obsessive focus on our respective domains. We share the values of building what support teams truly want and avoiding bloat in our feature set. That's why we chose to serve the support industry through a bundled offering rather than building overly complex features that are disjointed and cluttered.
The combination of flexible scheduling and 360-degree quality assurance empowers support teams to be happier, healthier and provide outstanding customer experience.
Klaus and Surfboard customers have both seen an improvement to CSAT and service levels, all while saving considerable management time previously spent on quality assurance and scheduling processes. All this results in better customer experiences and unlocking manager time to spend on the human side of leading teams.
Simplicity and ease of use are in our DNA so with both products you'll be set up in less than a week, seeing a meaningful return on investment in your first few months.
At both Surfboard and Klaus, we like to let our happy customers do the talking. Here's what Shannon Lavery, Customer Operations Manager from Ophelos had to say about using both platforms:
"Surfboard has truly benefited the organisation and also the well-being of my team. Now I know what you're thinking, how can a schedule provide better well being for your employees … Because when you are a start-up, things can feel out of control and having a platform like Surfboard brings structure to my teams day and helps them feel more in control and ready to take on the day ahead – and the lovely playlist feature is a great addition!"
"As a company, we use Klaus to help us have a top-notch quality assurance programme. This platform is like none other and really fits in with our values and the way we want to treat our customers and employees. Klaus helps us make QA fun and engaging. Their additional features like Coaching for creating quizzes and analytics to track IQS and CSAT keep things clear and all information easily accessible. But not going to lie, my favourite part has got to be the cat puns!"
Want to get a behind the scenes sneak peak? Here's how Surfboard and Klaus look in action:
Surfboard Features
Surfboard Forecasting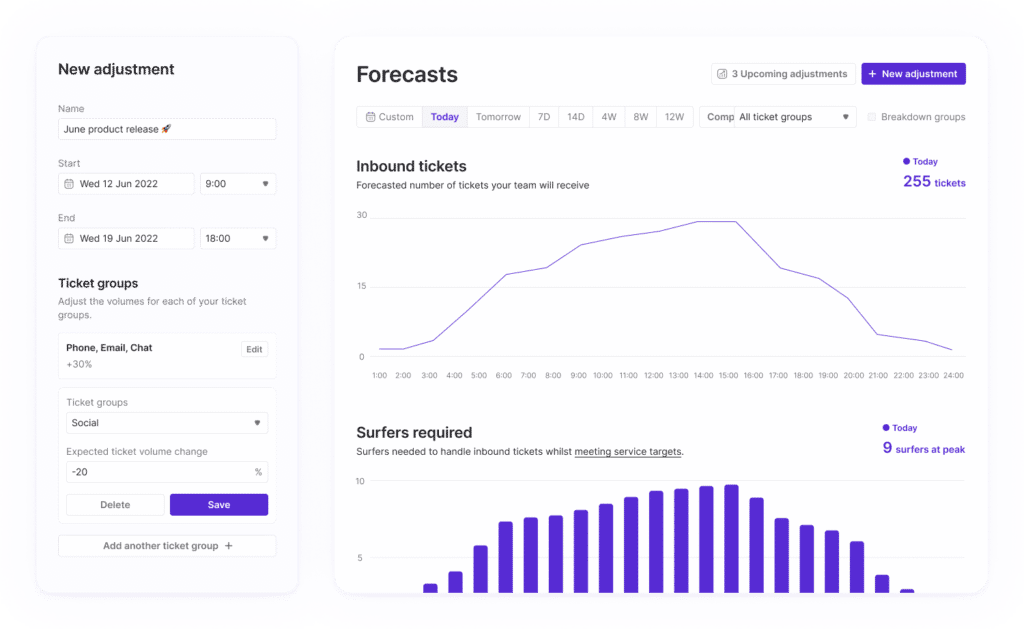 Surfboard forecasting highlights:
Connect Surfboard with your existing systems to predict inbound demand.
Ensure your team are covering the right channels at the right time.
Use your forecasts to help you create perfect the schedule.
Surfboard Shift Plans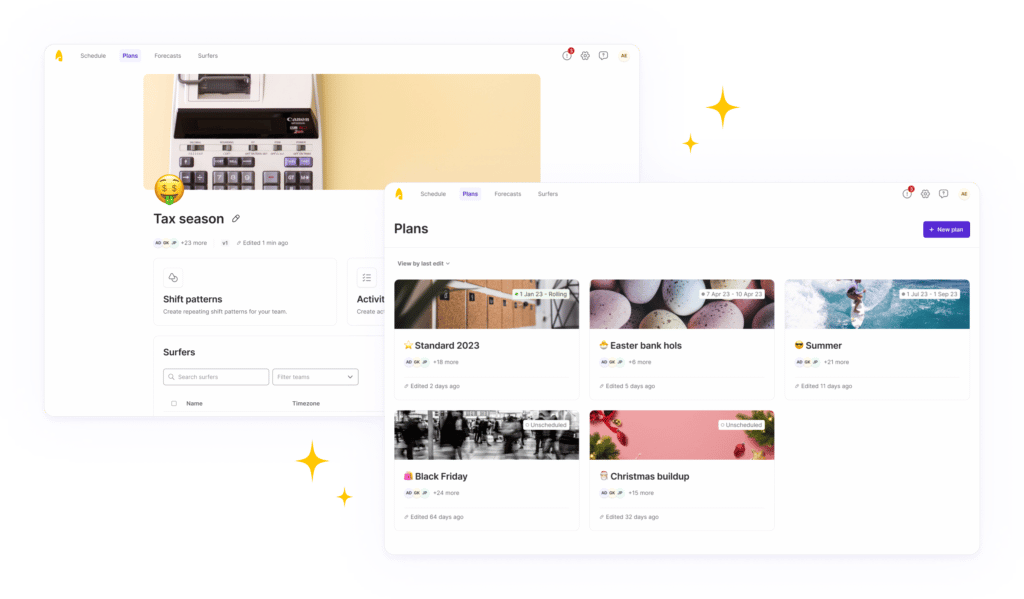 Highlights of Surfboard shift plans:
Build multiple different shift plans, saving you time & effort and giving you more control.
Build round robin scheduling into your shift plans, taking time in lieu into account.
Personalise the shift plans with different names and emojis.
Add a cover image of your choice.
Surfboard Shift Pattern Builder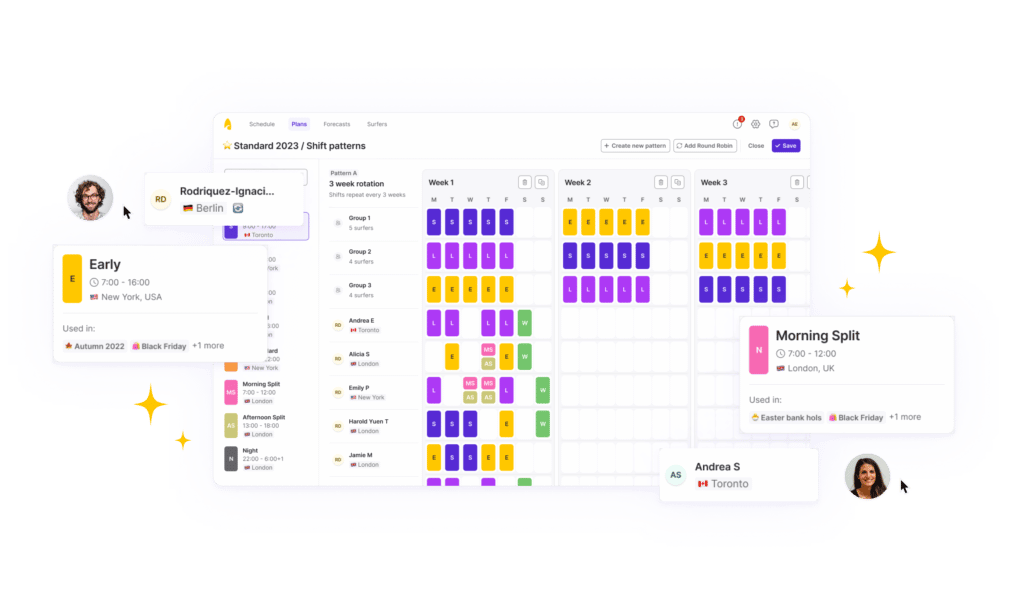 Shift pattern builder highlights:
Colour code your shifts.
Set what timezone your shifts are to be scheduled in with automated timezone management. Instead of trying to figure out what 9-6 US time is in UK time, you can just say 9-6 PST.
Get an overview of which plans the shifts are used in.
Group shifts into different folders, suiting your teams shift pattern.
Surfboard Scheduling
Surfboard scheduling highlights:
Make as many edits to your schedule to get it just right before publishing, with full control over what the schedule looks like.
Look at colour coded shifts, making your schedule nice and tidy.
View the schedule in any timezone you like, saving you from managing different timezones.
Add simple, visual tags/flags to see what timezones your surfers are in.
Be super organised and divide your surfers into different teams.
When it comes to ensuring you have coverage on your different channels, use the Surfboard schedule as your single source of truth.
Klaus Features
Klaus empowers support teams to provide exceptional customer experiences, boosting performance through feedback & learning. AI helps analyse customer service quality, and automations help speed up and improve the quality assurance process.
360 degree feedback
360-degree feedback highlights:
Close the feedback loop with a better understanding of performance based on internal standards. Use customer sentiment and review data to track & analyse results and scope for change.
AI-Powered Quality Assurance
AI-Powered QA Highlights:
All conversations are analysed for customer sentiment and complexity. Spotlight feature plucks out the best conversations for review, with the most learning potential. Smart filters help you sift through all conversations to understand your helpdesk and customer better.
Coaching & Learning
Coaching & Learning Highlights:
Agents can get smarter about how they talk to customers with data-driven feedback. Coaching features help them learn faster with more precision, and track improvements on a personal, team, and departmental level.
If you'd like to see how Surfboard & Klaus can work together for your support team, just add your email below and we'll show you!