Announcing our partnership with Front
We're delighted to announce our partnership with Front to provide support teams with best-in-class scheduling and ticketing software.
Both Surfboard and Front are committed to a ruthless focus on simplicity through centralising data so teams have all the information they need at their fingertips to deliver exceptional customer support.
With Front's exceptional ticketing and live chat offerings, Surfboard offers a one click integration to gather historical data to power forecast driven scheduling.
This means that support teams can schedule the right number of people across their shifts and intraday activities to meet their service levels, delight customers with quick responses, and ensure their team is working in an equitable and fair way.
Automating workflows is in both of our respective DNAs.
With Front, everything from customer data and a shared inbox means teams can collaborate to avoid information going into the ether or sitting in peoples heads. Similarly, Surfboard does this with team scheduling. We allow companies to connect their ticketing systems (like Front), time-off systems and agent data around shift rotations and skills to build optimal schedules.
Additionally, Surfboard offers the ability for agents (or surfers) to clock in and clock out, giving teams and managers the most accurate information on schedule and team performance.
The combination of flexible scheduling and all-in-one customer communication empowers support teams to be run more efficiently and avoid burnout and bad customer service.
Front and Surfboard customers have seen immediate efficiency gains, saving time from doing manual tasks like scheduling and shift planning.
"There has definitely been a reduction in the amount of time I use for scheduling, I will usually glance on a Monday morning for the week ahead and only need to make ad hoc changes depending on company updates etc. So I would say I have saved a good few hours a week."

Shannon, Customer Operations Team Lead, Ophelos
You can set up the Surfboard x Front integration in seconds, authorising the API and then customising which data you want Surfboard to collect from Front.
Want to get a behind the scenes sneak peak? Here's how Surfboard and Front look in action:
Surfboard features
Surfboard forecasting
Highlights
Connect Surfboard with your existing systems like Front to predict inbound demand.
Ensure your team are covering the right channels at the right time and use your forecasts to help you create perfect the schedule.
Create forecast adjustments to account for events such as product releases or sales.
Surfboard shift planning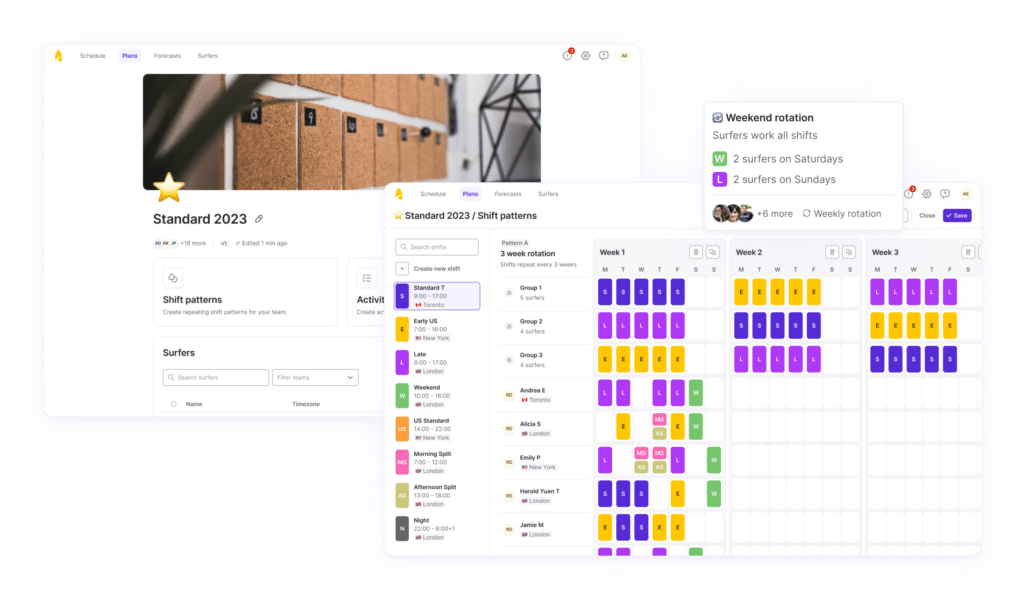 Highlights
Build and schedule multiple different Shift Plans, saving you time & effort and giving you more control.
Build round robin scheduling into your Shift Plans, taking time in lieu into account.
Set what timezone your shifts are to be scheduled in with automated timezone management. Instead of trying to figure out what 9-6 US time is in UK time, you can just say 9-6 PST.
Colour code shifts and personalise Shift Plans with different names, emojis and cover photos.
Surfboard time and attendance reporting
Highlights
Surfers can easily clock in and out of scheduled shifts.
Surfers can report on unplanned overtime.
Download customisable timesheets to report on working hours, overtime and time on activities.
Surfboard scheduling
Highlights
Create reusable rule-based activity plans to automate your activity scheduling.
Automate fair distribution of tasks across live channels and shared responsibilities as well as individual time for development or training.
Make as many edits to your schedule to get it just right before publishing, with full control over what the schedule looks like.
Simulate and view the schedule in any timezone, removing the stress of managing different timezones and easily identify where surfers are with timezone tags and flags.
Enjoy a tidy schedule by organising surfers into teams and easily transfer over or create colour coding to make your schedule easier to scan and read.
When it comes to ensuring you have coverage on your different channels, use the Surfboard schedule as your single source of truth.
Front features
Front allows support teams to get full visibility into all conversations in one place, acting like a shared inbox. It automatically aggregates and routes customer conversations and pulls all customer data to ensure context doesn't get lost.
If you'd like to see how Surfboard & Front can work together for your support team, just add your email below and we'll show you how you can get up and running in minutes.