How we build forecasts to improve customer service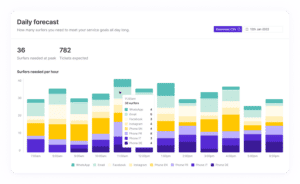 We've built Automated Forecasting so you can be up and running in minutes with clear visibility on when your tickets are coming in and where your team needs to be.
It is crucially important to have the correct number of surfers (🏄 that's what we call customer service team members) available at any given moment. Underpopulated shifts leave surfers to deal with too much. They will quickly become overwhelmed, and overworked.
On the other hand, you don't want too many surfers working on quiet days. This might leave them feeling dissatisfied. They could be spending their time doing something else.
A surfer has a huge responsibility to bear. They are the first point of contact for customers who need assistance. Good customer service leaves a good impression of the brand the surfer represents. The customer will associate a surfer who has given excellent service to their excellent company.
Of course, things sometimes go wrong. A customer can wait for longer than expected before they are helped. When that happens, it's easy to point a finger at a surfer.
What the customer might not see is that the surfer is assisting with 5 other issues at the same time. There may not be enough surfers available to deal with the current influx of requests.
With ever changing demand, how can you accurately prepare for each shift's team size? Enter Surfboard's Automated Forecasting.
Ahead of the game
Previously, our data scientists would work tirelessly to anticipate daily customer inflow. But this required a lot of back-and-forth between them and you. They'd have to ask you all the right questions and you'd have to give all the right answers.
We decided to take the process one step further while retaining the personal touch of a dedicated assistant. As of today, we are empowering you to create your own tailored forecasts in just a few clicks.
Based on your unique historical data, Automated Forecasting predicts how busy your surfers will be at any given time.
(That's super important to understand when planning shifts and schedules.)
Here's how Automated Forecasting will help you to build forecasts:
Extraction plan
Surfboard's Automated Forecasting connects directly to your ticketing and phone systems. From there it extracts and analyses conversation data that has been previously logged.
Have your surfers faced increased ticket traffic on the Monday morning shift? Are Thursday evenings congested by troubleshooting assistance? Do Saturday's lunchtimes run slower than Sunday's?
Our forecasting algorithms consider those kinds of questions in order to understand what future customer inflow will look like.
Integrate with ease
We understand that your choice of customer service platform is context-dependent. One platform may work better for emails, while another works better for chat. That's why Automated Forecasting can plug into multiple platforms. At the same time. Whether it's Zendesk, Twilio, Aircall, Intercom, or all of the above, we've got you covered. You can also mix and match platforms to create different ways of organising your teams. This works well for teams that serve different languages or teams that like organising their teams by case topics.
Let's sort that out for you
Accessibility to technology is at an all-time high. Customers are able to contact surfers in an instant via phone, email, or chat. With Automated Forecasting, you can sort your forecasts based on a range of conditions:
Which medium the tickets are coming from (email or chat?)
Priority rating (high, normal, low?)
Which platform the tickets originate from (Zendesk or Twilio?)
Tweak from there to create forecast categories that will be fine-tuned to your particular requirements.
Plug and play
Once you're set up, you can kick back while our forecasting algorithms do the rest. Within minutes, you will know exactly how many tickets to expect at every hour of any day. With that knowledge, you can ensure the right number of surfers are working at all times.
Why not take this predictive power to the next level? Use Shift Planner (link in text) to generate fair shift plans based on your forecasts.
Busy this weekend?
Don't get taken by surprise if you are.
Help your surfers stay happy and on top of things with Surfboard's Automated Forecasting. Please get in touch with nora@teamsurfboard.com if you have any questions or want to get forecasting right now.