Fair, efficient and automated intraday scheduling
Gain full control and flexibility over how your team's activities are planned, and spend less time doing it, with intraday scheduling in Surfboard.
Following the release of our new powerful shift planning tools earlier this year, we're proud to present our new intraday scheduling features.
Intraday scheduling is essentially planning what surfer's need to do when they're on shift. We know that this is a really complicated thing to get right and the cause of a lot of stress for teams. Juggling live channel coverage, email backlogs, admin tasks, personal development, breaks and meetings can be overwhelming for schedulers, and the impact of bad scheduling is felt by not only customers, but surfers too.
Teams continuously look for ways to schedule more fairly and efficiently, to ensure they're getting the most out of their team without sacrificing their wellness. It doesn't need to be as hard as it is, let Surfboard act as your invisible manager and do it for you.
Plan once, schedule automatically
Activity Plans let you schedule your team's time in different ways, so you can quickly and easily adapt the schedule to suit your priorities and needs.
You can think of an Activity Plan like a collection of rules – simply input your priorities, coverage or time needed, for each of your channels and tasks, like phone, email or chat, then let Surfboard automatically schedule for you. Activities are fairly distributed amongst your team, keeping your team happy and your channels well staffed.
Using your priorities, Surfboard enables you to optimise the amount of time surfers work on your most important channels and tasks, while fitting in other activities like admin or training when demand is lower.
You can create as many Activity Plans as you need. Whether it's extending your opening hours for peak times, dealing with absences, or handling a flurry of unexpected phone calls. Once applied to the schedule, the Activity Plan will generate fair intraday schedules for all surfers on shift to meet the rules you created.
Ensure you have the right coverage
Activity Plans are perfect for planning live channels, where coverage is key.
You can create coverage rules for each of your activities, so you can ensure you have the right number of surfers online to meet the inflow patterns of your customers across different times, days and weeks.
Using your connected ticketing platforms, Surfboard will guide you to help you plan the right level of coverage for each of your activities, while still giving you total control over the level of coverage you want to set for your team, down to every 30 minutes of the day.
We know that when events such as big sales or marketing campaigns happen, teams often change up their schedule; extending their opening hours or splitting their channels into tiers to better handle the expected inflow. That's where you can combine forecast adjustments with Activity Plans to get ahead of the peaks and plan accordingly.
Surfboard's simple coverage bars shows how well staffed each of your activities are for every half an hour of the day, so you're always informed and ready for the day ahead.
Plan multiple countries, all at once
Surfboard's powerful timezone tools make scheduling channels across different countries and markets a breeze. For each activity, enter the timezone it needs to be scheduled in and Surfboard does the rest.
You can view the schedule in any timezone you need to, so you can check up on your Brazilian team, or how well staffed your German channels are. All you need to do is enter the city you want to view the time for, and then all the times in the schedule will update to simulate the time in that location.
And, if you're dealing with the added complexity of scheduling channels in multiple languages to serve these different locations, Surfboard can help with that too. You can set up your schedule to only schedule activities for surfers that have been assigned that skill in their profile. So you'll always have the right surfers on the right activities.
Fairer scheduling baked in
We know that fairness means a lot to teams, and managers spend a lot of their time trying to create equity in their scheduling.
Surfboard does this work for you. When assigning activities, Surfboard rotates through the surfers available on shift to fairly distributes sessions – ensuring every one does their fair share while utilising the time available.
This also extends to breaks, where you can stagger breaks across your team to make sure everyone gets the rest they need, without sacrificing service.
Make sure work gets done
Scheduling doesn't start and end with live channels, there's a plethora of other activities that just have to get done. Whether it's admin, refunds, or personal development time, making sure that it's all scheduled is difficult to manage.
You can create time rules to account for and plan these activities. Surfboard's flexible time rules let you choose between individual allocations or shared time as well as per day or per week options too. So you can schedule an hour a week of training for each of your surfers, while fairly sharing time on admin every day.
Surfboard will automatically look for gaps in the schedule to schedule these activities, but you can also add specific time windows for more time sensitive tasks.
The 'start of shift' and 'end of shift' rules came directly from our customers, who often want to schedule time for surfer's to clear their inboxes at the start and end of their shifts.
Priority rules in Activity Plans allow you to deprioritise any activities that shouldn't happen at the sacrifice of another, fitting them into quieter times when demand is lower. Perfect for planning development time or training.
One, easy schedule
You can sync events from external calendars, to bring them into Surfboard and schedule around them, meaning you know exactly how your team are spending their time, and no one gets double booked.
Surfboard also alerts you if any of your rules haven't been met, so you always have full visibility and control over the schedule, and make sure no important tasks are missed.
Making edits to the schedule is quick and easy. You can edit any activity in a click and add activities directly from the toolbar in the schedule.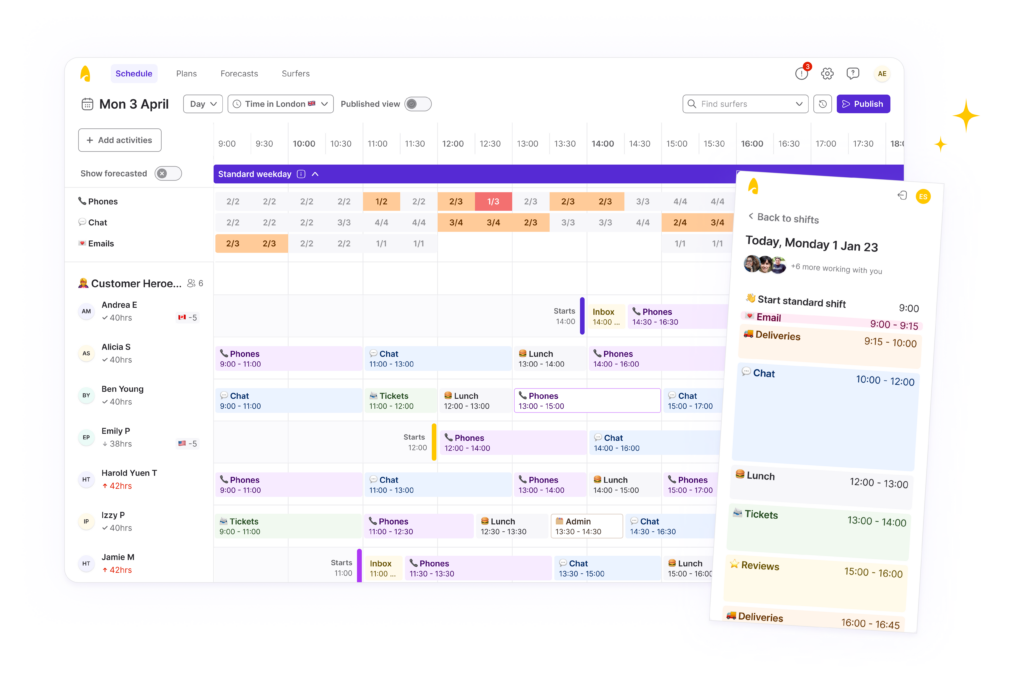 Your team are always updated
Surfboard's dedicated surfer account gives surfers a clear, simple view of their intraday schedule, as well as a live list of who they're working on.
You can say goodbye to chasing your team with Surfboard for Slack. When added to your workspace, surfer's receive regular updates whenever they need to change activity, take a break or finish up for the day.
And, with Surfboard's draft and publish tools, you can prepare your schedules further in advance and handle last minute, on the day changes with the safety of a sandbox space for editing. Then, you can publish your daily activity schedules when you're ready to, and surfers will receive their schedules automatically.
Automate your scheduling
Surfboard's activity scheduling tools enable you to achieve more efficient, fairer scheduling, in less time. Our intuitive app is easy to pick up and get started with right away.
We'll be sharing more in depth details on our other features in our next blogs.
Reach out to learn how you could improve your team's scheduling using our fast, simple and flexible scheduling tools.