Team insights
Track and report on your customer support team's performance and working hours with simple yet powerful reporting.
Empowering

Surfers can see and track their own performance within Surfboard with fair, transparent reporting.
Human

We don't believe in tracking for tracking's sake. All of our tools are designed to improve your schedules and support your team.
Understandable

You don't need to be an expert to read our reports. Enjoy simple, easy-to-read and jargon-free reporting.
Surfboard insights
Time on-task
Seamlessly track how much time your team are spending in adherence and on-task using your ticketing integrations.
Surfboard gives managers and surfers transparency over their data.
Behavioural trends
Celebrate your team's wins and easily identify which surfers need additional support or training to reach their potential.
Shift and overtime reporting
Create compliant and accurate timesheets with clock in/out and overtime reporting, allowing surfers to easily record their own time.
Timesheets
Export timesheets for your team, combining what was scheduled with what surfers actually reported; giving you one, simple consolidated view of your team's time.
Fairness and utilisation
Understand how well utilised your team are time surfers are spending on each activity with time insights and granular CSV activity reports.
The most important thing for us when looking for a new scheduling system was an aligned experience across all tools and software that we use, we use multiple platforms on a daily basis and so a seamless integration was key. With Surfboard, we found that.

Liam Nooney, Customer Love Team Lead, Butternut Box
Get a demo
Book a demo with a member of the Surfboard team to see how Surfboard's reporting tools can benefit your team.
What else can you do with Surfboard?
Faster shift planning
Automatically assign your team's shifts 8 weeks in advance so they know when they're working.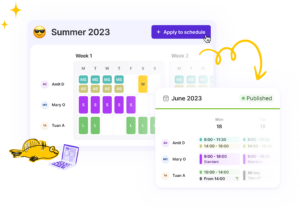 Smarter activity scheduling
Automatically schedule your team's daily activities so they know what they're working on.