Everything you must know about workforce scheduling

Spending hours each week to schedule your workforce manually isn't cool.
Managers often struggle to fill last-minute shifts or deal with employee conflicts. They spend a lot of time setting schedules they could otherwise spend on other managerial initiatives.
Inefficient workforce scheduling decreases productivity, labour costs, and even employee burnout. According to the Society of Human Resource Management, unscheduled absences have, on average, a productivity loss of 36.6%.
So, how can companies implement better workforce scheduling to avoid the pitfalls of poor orchestration?
This guide gives insights into how to streamline your scheduling process, reduce costs, and keep your employees happy and productive.
What is workforce scheduling?
Workforce scheduling is organising, optimising, and managing employee schedules to meet project deadlines and company goals in a specific time frame.
But this definition doesn't fully cover the realm of labour scheduling. Here's what wfm scheduling includes in modern work culture:
Allocating work efficiently according to project timelines, labour costs, compliance rules, and other constraints
Managing requests and scheduling off days
Optimising schedules for employee productivity and more based on forecasted requirements
Accommodating employee preferences around working hours to avoid burnout and attrition
Accounting for shrinkage from breaks and other non-service related tasks like training, 1:1s and admin tasks.
Moreover, the extent of scheduling shifts depends upon the type of organisation. For example, smaller organisations with limited projects may only need a single schedule, but larger ones may need individual employee schedules to help coordinate projects between different teams.
Elements of workforce scheduling
Workforce scheduling is essential in several businesses, but it is crucial to any business that uses shift work or shifts planning in some form.
Take customer support teams, for example. Businesses like Wolf & Badger (an online fashion retailer) have customers worldwide, meaning they need to provide support for these customers across many different time zones. As a result, they need their team to work on multiple shifts. Using shift rules and rotations enabled them to cover the demands of their customers.
Workforce scheduling includes a few distinct elements that make it important in operations management.
Forecasting
Shift Planning
Activity Scheduling
Communication or notifications
Easy editing tools to make changes on the fly
Forecasting
Effective workforce scheduling begins with accurately predicting the demand for work in a particular period. Customer service forecasting is especially helpful for customer support teams when predicting the level of customer support that will be needed.
Check out how Freshly Cosmetics used Surfboard's automated forecasting feature to generate weekly schedules for their team. 
Shift planning
Shift planning is an integral part of workforce scheduling. It is the process of assessing what times need to be covered by a team, then designing shift patterns ensuring that hours are covered while maintaining flexibility for the teams to choose a shift pattern that suits their lifestyle.
With the transition towards remote working and geographically distributed teams, making shift plans has become more important. Transparency in shift schedules gives freedom to employees, allowing them to change or swap shifts with their colleagues. Effective shift planning also improves employees' satisfaction and experience.
As a result, employees stay more engaged and happy in their roles. And, as we always say: Happy teams make happy customers.
Activity scheduling
In workforce scheduling, there is a more granular approach called activity, or intraday, scheduling. It is assigning different tasks to individual team members within a specific shift. It breaks down what tasks they need to work on throughout the shift.
For instance, you can monitor the tasks done by your customer support team throughout their shift (chat, phone calls, responding to emails, etc.) instead of giving them blocks of time with no specific assignments.
Here's how the Surfboard platform lets you manage the daily shift activities of your team. This is a prime workforce scheduling example to give you a headstart on workforcewfm scheduling.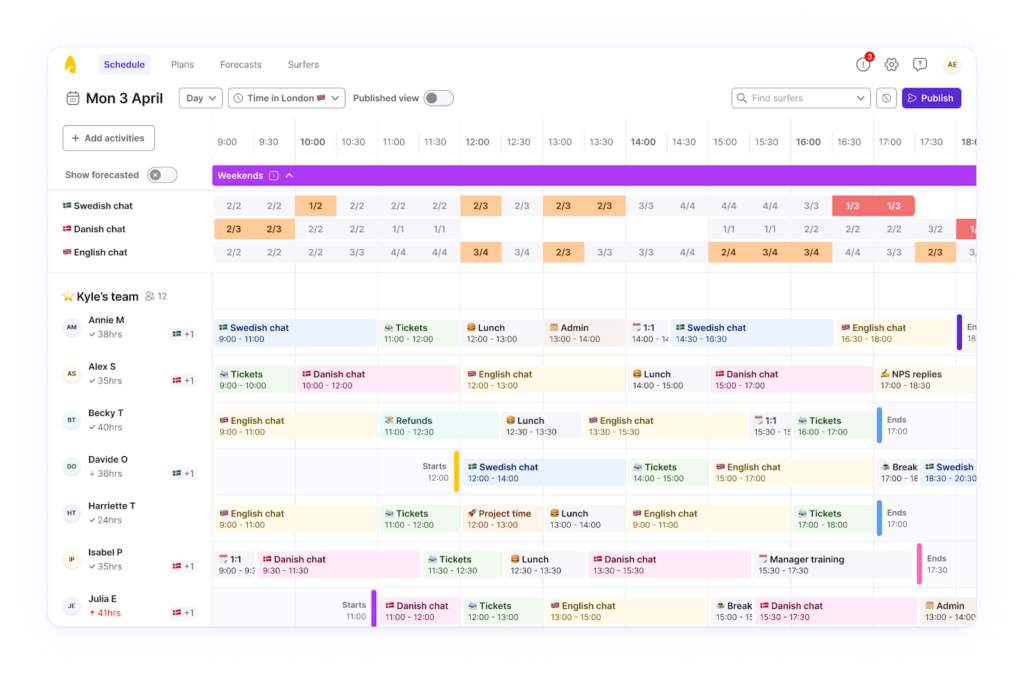 Communication
Internal communication goes beyond just providing the schedules. Many factors go into scheduling, such as medical leave, no-shows, lateness, fluctuations in customer demand, last-minute changes, and shift swaps.
Hence, real-time communication within teams is critical. Customer support agents must communicate with their team when something causes a delay in their workflow—communicating quickly and clearly amongst teams can be highly valuable to ease the workforce scheduling process.
Challenges in workforce scheduling
Managers who deal with workforce scheduling encounter their fair share of obstacles. Here are a few most common scheduling challenges.
Employee shortage
When your business is understaffed, productivity decreases drastically, and ultimately, your bottom line takes a hit.
The ideal solution is to hire new team members. However, if your business is running on a tight budget – a better way to resolve this scheduling issue is to fill the staffing gaps by organising your employees more effectively.
Shift swapping
Initially, allowing your team members to make their schedules feels like a massive weight is off your shoulders, but it also leads to confusion. For instance, most team members prefer day shifts over the night shifts, so who works on the night shift?
Every employee has personal preferences, so meeting everyone's demands for better shift timing is exhausting.
Disorganisation
Staying organised is a must-have skill for everyone, but especially for busy managers because managing shift schedules in a business with 500+ employees can take a toll on the best of us.
The best move is to invest in workforce scheduling tools like Surfboard. The software's intuitive shift planning tools make planning shift schedules easy. Also, all team members' schedules are accessible from a single dashboard.
No show employees
Your entire team is in disarray when an employee doesn't show up during their shift without a heads-up (i.e., no call, no show).
You can prevent no-calls and no-shows and mitigate other scheduling problems by planning shifts so that their absence doesn't impact the team's overall functionality.
Vacations and time off
Requested vacations and time off are necessary to preserve a healthy work/life balance. However, this makes scheduling a mammoth task.
The best solution to this age-old scheduling problem is to use a workforce management tool to monitor vacation and time-off requests.
Lack of availability
It's unrealistic to expect your team members to be available anytime and any day, but some members have greater availability than others.
Sending out employee availability forms will help you get some clarity, and you can create the schedule accordingly.
Medical emergencies
There's no way to predict someone falling sick, and there's no way to plan for it.
However, you can make a schedule to help prevent sick employees from disrupting your existing project timeline.
You can use Surfboard for smarter activity scheduling so that anyone's absence doesn't hamper your team's productivity.
Additional overtime
Overtime may be necessary occasionally, but too much of it can negatively impact employee morale and increase turnover.
Keep overtime at a minimum by monitoring when and how much your team members work.
Set limits on maximum work hours so no employee is forced to work overtime regularly. This will keep your labour costs under control and your bottom line in the black.
Lack of proper technology
Managers still use Excel and Google sheets to create and distribute the employee roster. But as your team grows, tracking and scheduling shifts becomes difficult. Thus, scheduling issues and miscommunication happens.
Even worse, several back-and-forth calls and texts become time-consuming, leading to problems such as a lack of work/life balance.
To prevent unnecessary bottlenecks, you can use the Surfboard platform so your support team can set their schedule based on accurate forecasts while keeping your team organised and in control.
Why is workforce scheduling important in operations management?
A smooth and steady workflow with daily operations executed accurately and on time ensures success. However, it cannot be achieved without team members knowing their work hours, responsibilities, and functions.
Proper scheduling brings order to chaos, allowing employees to focus on their jobs and manage their free time effectively. This, in turn, boosts productivity, results, and overall job satisfaction.
Here are a few reasons why workforce scheduling is important.
Prevent high employee turnover
Nowadays, employees have higher expectations, and the inability to meet them can lead to frustration, burnout, and turnover.
To boost employee retention, working on a better scheduling system is crucial. An unfair workload and a jam-packed schedule are the main drivers for worker turnover.
The right scheduling solution will allow you to plan better and keep your employees engaged, productive, and happy.
Deliver high-quality service consistently
Customers expect excellent and consistent customer support. If your employees are disengaged and overworked, it could compromise your service quality.
Employees continually missing shifts or not showing up on time can result in service quality issues. An optimal work schedule will help you better define the quality of service you provide.
A sound scheduling system will encourage employees to show up and be productive at work.
Reduce unnecessary overtime
Effective workforce scheduling allows you to manage overtime hours, precisely track an employee's time on a particular task, and quickly pinpoint issues such as unnecessary overtime work. This provides better insights and minimises compliance issues.
Controls costs by optimising staffing
By optimising shift schedules, you can better manage finances by increasing operational efficiency and decreasing labour costs. Organised scheduling eliminates issues such as over/understaffing, and you minimise errors that entail costly solutions.
Maximises productivity
Workforce scheduling maximises productivity by automating time-consuming and manual processes such as time tracking and report generation. This way, managers can dedicate more time to other essential activities.
9 Tips to optimise workforce scheduling
Optimising schedules is one of the most challenging of all optimisation problems. Extreme variability—in workforce types and operations and across sectors and businesses—makes these solutions hard to standardise.
Set a fixed time for workforce scheduling
If you have to make schedules for many employees in a team, it's best to carve out a fixed time during your workweek to focus on the task exclusively.
Designated time to work on employees' schedules helps you pay undivided attention to this process. Hence, your team will function smoothly, shifts will run like clockwork, and your business function will improve dramatically.
Create a schedule template
You can massively reduce the time taken to draft schedules by creating a custom template for employee schedules.
When arranging the schedule for the next week, month, or quarter, you can assign names to shifts rather than individually filling out all the rows and columns.
Make the schedule easy to understand
Your team members will readily comply with the schedule if it is easy to read and understand. Your employees must be able to figure out their shift timings in just one glance.
Publish the schedule with proper lead time
If you release the schedule just a day early, it doesn't allow much room to make changes if required. Publishing your schedule with a proper lead time allows your team members to:
Plan their personal commitments around the work schedule
Make any necessary changes in case of scheduling conflicts
A schedule with little to no flexibility will lead to no-show employees, and the burden to find an alternative falls on your shoulders.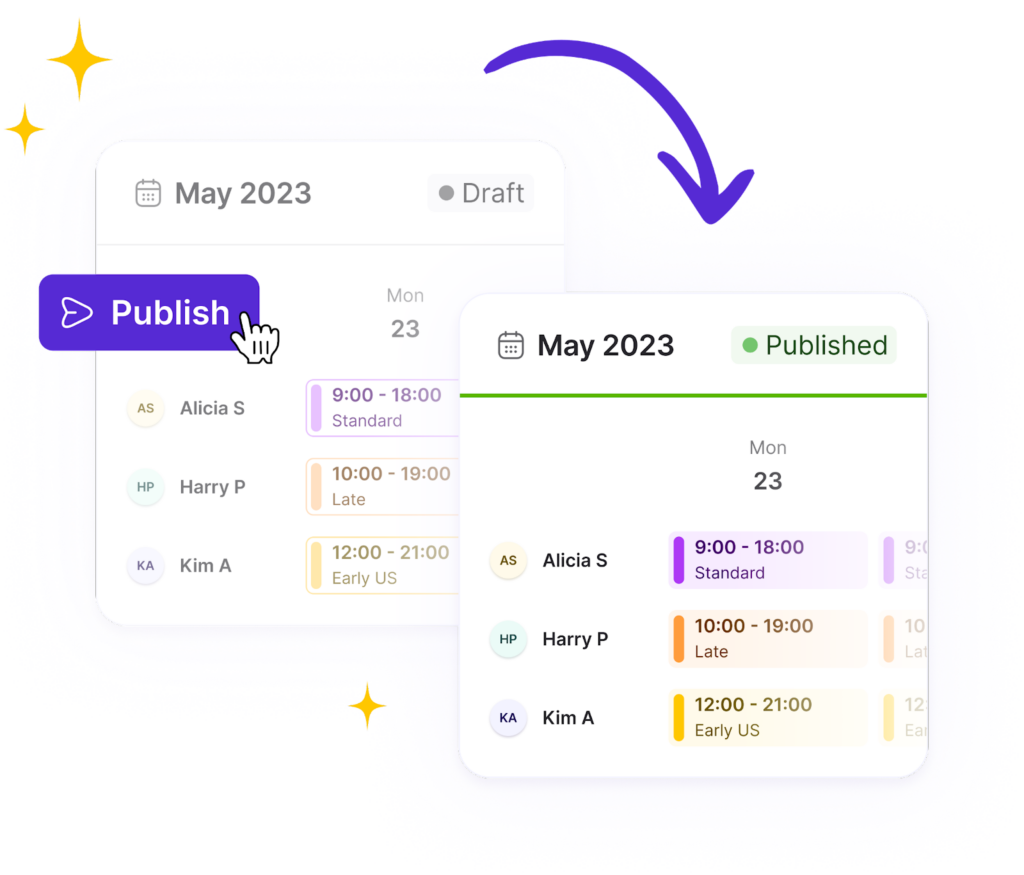 Allow employees to make changes within reason
Managers often forget that they can give their team members a chance to present their own ideas for their work schedule.
Allowing them to do some of the scheduling themselves can:
Ease your workload
Allow them to be productive
However, this doesn't mean they are entirely responsible for the work schedule. You can collaborate and ideate with employees till everyone reaches a middle ground so that everyone is satisfied.
Get the whole team involved
Improving and optimising your workforce scheduling works best when everyone in your business is involved, remotely or in-office.
Any changes you make can dramatically affect your standard operating procedures and directly impact your team's workflow, so it's unwise to want only to consider the perspectives of management-level employees.
When everyone is involved in the decision-making process, your attempts to improve the workforce scheduling positively impact your team's performance, motivation, and overall happiness.
Assess business needs
Everyone in the company is working toward building the business, but each project has different priority levels.
For instance, some days, you'd need all hands on deck; on other days, you'd just be in-between projects and wouldn't require the whole team to come in.
Analysing business needs can help you identify trends like these to control labour costs, schedule your workforce more effectively, and improve your company's operations.
Assess employee availability
Employee availability can significantly affect the scheduling process and the final staff rota you produce.
For example, certain employees take more days off because of illness or family emergency. In that case, prepare for such bottlenecks by having a set of substitutes for the respective shifts ahead of time.
Forecasting will allow you to keep track of employee availability trends to avoid scrambling for replacements at the last minute, eliminating the stress of running your business understaffed.
Incorporate a workforce scheduling solution
It's no secret that using Excel sheets for scheduling doesn't have the same potential as workforce scheduling software. Invest in a platform that simplifies scheduling and centralises data in one location.
Look out for the following features when searching for an employee scheduling tool:
Integrated Forecasting and access to historical data
Seamless integration with your existing tech stack
Setting schedules across multiple time zones
Easy activity scheduling and delegation
Time off feature to prevent delays and find suitable replacements in time
Make sure you gauge the ROI of the scheduling software before making the final decision.
Wrapping it up
As you can see, workforce scheduling significantly impacts business functions. It may seem simple at first, but it requires thorough research and planning and a dedicated approach that ensures the smooth functioning of teams.
Fortunately, technology has made this job easier and more manageable. Workforce scheduling software like Surfboard can help you overcome all your scheduling hassles and help employees maintain a healthy work-life balance.
Book a demo today to learn how Surfboard can revamp your workforce scheduling processes.